Bichette preaches patience amid bats' struggles
Bichette preaches patience amid bats' struggles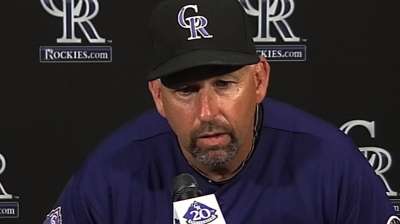 DENVER -- The Rockies hired Dante Bichette as hitting coach because he knows the wild swings, from runs in bunches to cold streaks, the franchise has experienced over 20 years. Some of it is due to the differences between hitting at altitude and on the road, and some of it is the general ups and downs of a season.
A 3-1 loss to the Marlins on Monday, when the Rockies were shut down by Tom Koehler for seven innings, left the team's OPS for July at .617. Only the Athletics' .609 clip was lower among Major League teams entering Tuesday's game against Miami.
The Rockies' 51 July runs were second fewest to the Marlins' 50. Hitting with runners on base and runners in scoring position have also been a struggle for an offense that at one point dealt with the lengthy, injury-related absences of center fielder Dexter Fowler and shortstop Troy Tulowitzki. Now everyone is back, but the consistency isn't.
At a time when fans want to scream, Bichette goes deeper into calm mode. Bichette recalls his career, when he and the Rockies came under constant scrutiny for hitting much better at Coors Field than on the road, and some players seemed to be affected by the numbers and the criticism that went with it.
"You panic on guys here in the big leagues and you'll lose their trust, so that's not me, that's not my style," Bichette said. "I'll go down with the ship if that's the case, no big deal. I've been here. Nobody's been here more than I have. I get it.
"I don't need to kick big leaguers in the butt. That's why they're big leaguers. They've learned to do it themselves and people just don't get it. If they don't get it, that's not my problem. I just need to make sure we get ready for the game."
Players say it's a matter of fighting the urge of trying to do too much. Carlos Gonzalez was kicking himself for having rough at-bats with runners on base, then having his only hit -- a double in the eighth -- with no one on base.
"You just have to have each at-bat the same, not try to do too much," Gonzalez said.
An issue that arose Monday was facing a pitcher the Rockies had never seen in Koehler. They never faced Tuesday starter Jose Fernandez, the Marlins' 20-year-old All-Star, either.
Manager Walt Weiss hit the same theme of simplicity as Gonalez.
"The important thing is to simplify the at-bat," said Weiss, who has not tinkered with his batting order. "Don't get too caught up in his repertoire or what he might throw you. I think you simplify it by trying to get a fastball, because he likes his fastball. Get a fastball for a strike and put a good swing on it."
Bichette said he has to be a voice of reason to young hitters, especially rookie third baseman Nolan Arenado, who entered Tuesday hitting .240 as he struggles to adjust to big league pitching. But Bichette believes patience will allow the talent of the offense to shine.
"We've got our big boys starting to swing the bat again," Bichette said. "I like where we're at. Our young guys are learning and we've got the middle of that lineup having big years and swinging the bat well. Just stay healthy and keep swinging."
Thomas Harding is a reporter for MLB.com. Read his blog, Hardball in the Rockies, and follow him on Twitter @harding_at_mlb. This story was not subject to the approval of Major League Baseball or its clubs.