Sveum ejected after defending Ransom
Sveum ejected after defending Ransom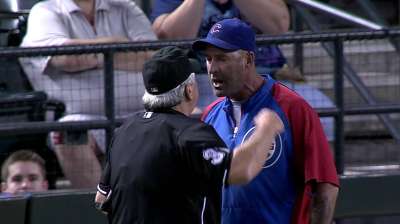 PHOENIX -- Cubs manager Dale Sveum doesn't like when umpires look at his players the wrong way, and on Tuesday night, it led to his fourth ejection of the season.
Cody Ransom was called out on strikes to end the third inning against Arizona's Patrick Corbin, then flipped his bat and helmet, and tossed his batting gloves. Home plate umpire Dana DeMuth followed Ransom, and apparently something was said from the Cubs dugout that the ump didn't like.
DeMuth signaled that Sveum was ejected, and the manager then ran onto the field to argue. The two appeared to be laughing as their discussion ended.
"I didn't quite like the way he handled staring at Cody and following him," Sveum said. "It was over with. He didn't need to keep staring at my player and baiting him."
Why were they laughing at the end?
"Yeah, I was," Sveum said. "It was funny what he said."
Sveum wouldn't share that part of the conversation.
Last Sept. 5 in Washington, Sveum said he'd had enough of umpire Larry Vanover "eyeballing" him in the dugout, and that led to his ejection in the fifth. On April 20 in Milwaukee, Sveum was tossed in the sixth when he defended Jeff Samardzija after the pitcher objected to a call by home plate umpire Chris Guccione, who took off his mask to continue the discussion.
Tuesday's ejection was the eighth of Sveum's managerial career with the Cubs.
Carrie Muskat is a reporter for MLB.com. She writes a blog, Muskat Ramblings, and you can follow her on Twitter @CarrieMuskat. This story was not subject to the approval of Major League Baseball or its clubs.