Angels rally vs. Perkins, but fall to Twins in extras
Angels rally vs. Perkins, but fall to Twins in extras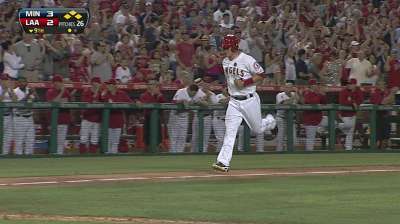 ANAHEIM -- The Angels did not know what they were going to get from Tommy Hanson, who hadn't pitched in a Major League game in nearly a month, but they got all they could have asked for.
However, the Twins scored seven runs against Ernesto Frieri and Billy Buckner in the 10th and defeated the Angels, 10-3, on Tuesday night at Angel Stadium.
After the Angels tied the game via a bases-loaded walk to Erick Aybar in the ninth, things fell apart for Frieri in the 10th. The Angels closer gave up a trio of hits to begin the inning and a grand slam from Chris Herrmann, the first of his career, to put the game out of reach. To make matters worse, Buckner came in and surrendered a two-run homer to Pedro Florimon.
"When I do bad, it's like ugly bad," Frieri said. "Ugly, super bad."
Tuesday was a rough night for the Angels relievers as they failed to protect the 2-1 lead Hanson left the game with and ultimately surrendered nine runs in 4 2/3 innings, but the bullpen entered the game on a bit of a hot streak.
Entering Tuesday, the Angels bullpen had a 2.52 ERA in July and had not allowed an earned run since July 13.
However, Dane De La Rosa, Kevin Jepsen, Frieri and Buckner all allowed runs as the Angels lost their third straight game.
"This game, when you play it, you're going to do good for a couple days, you're going to do bad for a couple days too," Frieri said.
While the outcome was not what the Angels were hoping for, Hanson's outing was a bright spot as the right-hander threw 76 pitches over 5 1/3 innings, allowing just one run on four hits.
"That's the best stuff I've seen Tommy have, definitely since he's been here," Angels manager Mike Scioscia said.
Hanson, who tied a season high with eight strikeouts, also felt good about his performance.
"I feel really healthy," Hanson said after making his first start since being activated from the DL. "Everything feels really good. I didn't feel like I had to force anything tonight. It was there. I felt really good and I feel like the results were there as well."
For Hanson, the results were there, but for the Angels' offense they weren't -- and haven't been for over a week.
Since the Angels scored 13 runs in Chicago on July 11, they have scored just 18 runs and hit 6-for-55 with runners in scoring position.
On Tuesday, the Angels left eight runners on base and had a chance to win the game with the bases loaded and one out in the ninth, but J.B. Shuck grounded into a double play.
"I think we've created some situations, but we're not cashing in and tonight was not a good night for us with runners in scoring position," Scioscia said. "We can't sit back there and just live and die with the home run. We have to have more."
But home runs were all the Angels could muster off Twins starter Kyle Gibson, who allowed two runs on five hits in six innings.
Albert Pujols gave the Angels their first run of the game with a home run -- the 492nd of his career -- to lead off the fourth. The shot, which barely dodged the glove of Aaron Hicks, also snapped an 0-for-11 streak for Pujols, who finished 3-for-5.
Two batters later, Mark Trumbo gave the Angels a 2-1 lead with a home run of his own. Trumbo, who recently adjusted his swing and entered the game 6-for-11 against the Twins this season, took a 93-mph fastball from Gibson and hit it over the right-field wall for his 22nd home run of the season.
Following the home runs, Gibson would retire six of the next eight batters he faced and the Angels wouldn't score again until the ninth.
"It feels pretty good to be able to settle down after that," Gibson said. "Pujols hit a good pitch, but on both batters I fell behind the count."
With the loss, the Angels have lost two of their past three series and have fallen to fourth place in the American League West.
William Boor is an associate reporter for MLB.com. This story was not subject to the approval of Major League Baseball or its clubs.