Mariners clip Tribe as winning streak hits eight
Mariners clip Tribe as winning streak hits eight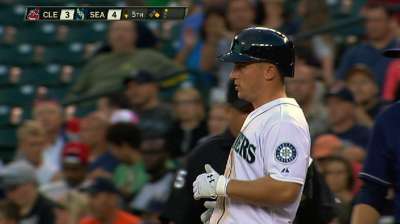 SEATTLE -- With runners on the corners and no outs in the ninth, Seattle's one-run lead and its winning streak were in jeopardy. But Cleveland pinch-runner Drew Stubbs was caught in a rundown between third and home to complete a double play, helping the Mariners escape with a 4-3 victory for their eighth consecutive win.
Early in the season, Seattle was swept in a four-game series at Cleveland, losing three games in walk-off fashion. On Tuesday night with manager Eric Wedge in the hospital, the Mariners exacted a measure of revenge.
"Things happened like that for Cleveland, in Cleveland, and things seems to be going our way now," said Mariners bench coach Robby Thompson, who is filling in for Wedge while he recovers from Monday's dizzy spell that has kept him out of the last two games. "Sometimes things snowball and go your way and things seem to be going our way."
Marines closer Tom Wilhelmsen worked in and out of a ninth-inning jam after allowing back-to-back singles by Mark Reynolds and Lonnie Chisenhall to put runners on the corners with none out. But Yan Gomes hit a sharp grounder to third baseman Kyle Seager, who threw out pinch-runner Mike Aviles at second.
Stubbs broke for home, but second baseman Nick Franklin deftly threw to the plate instead of going for the potential double play at first, and Stubbs was caught by shortstop Brad Miller as he attempted to return to third. Wilhelmsen then struck out Michael Bourn looking to end the game.
"He needed to just keep going. ... They were trying to be able to turn a double play. If it's hit to second, the shortstop is playing pretty shallow," Indians manager Terry Francona said. "The idea is, if they can turn two, he can't stay at third. So once they threw to second, he's going. He just probably needed to keep going and we'll take our chances."
The Mariners (48-52) scratched their way to a lead with a big three-run third inning -- capped by Mike Zunino's go-ahead single -- and it stood to set up a chance for their third consecutive sweep on Wednesday afternoon.
Before the streak began, Seattle hadn't swept a series all season, but the hitting and pitching have combined to form a potent combination. Every Mariners starter has recorded a win over the past eight games, while Seattle is averaging 6.25 runs per game.
"We're excited. We have a lot of confidence in each other," said Seager, who had three hits in the win. "It's something that we've had for awhile now, so it's always nice to get to see the results and everything because we're playing with a lot of confidence. We've been swinging the bats pretty well, we've been pitching pretty well. It's been fun, we're just enjoying this."
But against a Cleveland (52-48) club that is contending for an American League Central title, the Mariners showed they could still battle to a close win. Right-hander Erasmo Ramirez, recalled on Tuesday, picked up his first win of the season -- his second career victory -- in just his 10th Major League start.
Both teams scored a run in the first. Cleveland got on the board when Asdrubal Cabrera -- whose professional career began in the Mariners organization -- hit a single to bring home Jason Kipnis, who had put himself in scoring position with a two-out double.
Seattle evened the score, with a little help from the Indians' defense. Franklin drew a walk against Tribe starter Zach McAllister, and advanced on a two-out error by Kipnis.
Franklin scored when Seager doubled just past first baseman Mark Reynolds. The Indians committed another error when Chisenhall missed an easy popup from Justin Smoak at third base, but there was no further damage in the inning.
Seager finished 3-for-4, raising his average to a team-high .292. Seager also leads the team with 42 extra-base hits.
Ramirez struggled to record the third out in the second inning. After striking out Carlos Santana and forcing Reynolds to ground out, Ramirez gave up a single to Chisenhall, who scored on Gomes' seventh home run of the season, his third against Seattle. Still, the rookie pitcher recorded a pair of strikeouts in each of the first two innings.
"In that moment I just tried to throw as hard as I can, the breaking ball, but I didn't control it," Ramirez said. "After the second inning I just focused and threw the ball as hard as I can, but under control. "
Raul Ibanez and Kendrys Morales hit back-to-back doubles to start the decisive third inning. Seager followed with a single, but Morales was thrown out at the plate. Seager later scored on a wild pitch, and Zunino plated Michael Saunders with a single to give Seattle a 4-3 lead.
Jacob Thorpe is an associate reporter for MLB.com. This story was not subject to the approval of Major League Baseball or its clubs.