Tribe's pitching, defense labor in loss to M's
Tribe's pitching, defense labor in loss to M's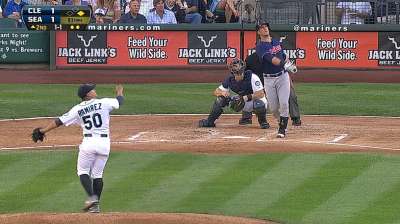 SEATTLE -- Zach McAllister returned to the mound for the Indians on Tuesday night and got an up-close look at what has been ailing the ballclub throughout this road trip. The defense was shaky in spots and the offense sputtered late, complicating the pitcher's comeback.
It was a combination that led to a 4-3 loss to the Mariners at Safeco Field, marking the fourth one-run loss for Cleveland in the past five games. The defeat sent the Tribe to a series loss in Seattle with one game remaining in the three-game set.
When the Indians arrive back home in Cleveland, they will have some work scheduled.
"Obviously, we need to win tomorrow," Indians manager Terry Francona said following Tuesday's loss. "But we need to get back home, get out there and get some early work in, because we're not catching the ball very well."
The Indians (52-48) are 1-4 on their road trip through Minnesota and Seattle, committing seven errors along the way. Third baseman Lonnie Chisenhall has made four errors, second baseman Jason Kipnis has bobbled a handful of grounders with two errors charged to his season line, and Nick Swisher made one at first base during the team's series against the Twins.
At one point during Tuesday's game, Kipnis even switched gloves between innings.
"He's fighting it," Francona said. "He knows it."
McAllister took the hill on Tuesday following a seven-week comeback from a sprained middle finger on his throwing hand. He appeared to have some rust in his first start off the disabled list, but the Tribe's defense certainly did not do the right-hander any favors early on.
McAllister essentially needed to create six outs in order to notch the three necessary to escape the opening frame.
With two outs in the first inning, Kipnis mishandled a grounder off the bat of Kendrys Morales for a costly error that put runners on first and second base. Seattle third baseman Kyle Seager followed with a sharply hit ball that bounced off the glove of first baseman Mark Reynolds and into right field for a run-scoring double.
McAllister also navigated his way around a pair of errors by Chisenhall, who missed a catch in foul ground in the first inning and threw a ball away in the second. Neither blunder led to a run for Seattle (48-52), but the errors nonetheless made things a tad more difficult for the pitcher.
"I had to [work], but that's part of the game," McAllister said. "It's our job to pick up the position players when they don't make the plays, but we have all the trust in them that they're going to pick us up later on."
Under the circumstances, Francona thought McAllister handled himself well.
"He kept his composure," Francona said. "First time back, hadn't pitched in a while, and we're making him throw a lot of pitches. So, I thought he did a pretty good job."
The Mariners then broke through for three runs off McAllister in the third inning, when the home team churned out five hits, including three doubles. Raul Ibanez and Morales opened with back-to-back two-base hits to bring home one run. Later in the frame, McAllister threw a wild pitch with Mike Zunino at the plate, allowing Seager to score from third base to pull the game even at 3.
Zunino then ripped a pitch from McAllister into right field for an RBI single that put the Mariners up, 4-3.
"Things can happen quick here," McAllister said. "You leave some pitches up and big league hitters, good big league hitters at that, they can make you pay."
That effectively erased the early work of Cleveland's offense.
Against Seattle righty Erasmo Ramirez, whose only other outing this season fell on July 11, the Indians managed three runs on eight hits in his 5 2/3 innings. Kipnis doubled and scored on a base hit from Asdrubal Cabrera in the first inning and Yan Gomes launched a two-run home run off Ramirez in the second.
That was hardly enough to keep McAllister from slipping to the loss column in his first start back in the rotation. The big right-hander looked stronger over his last two innings of work, but with his pitch count up to 109 through five innings, he headed to the showers. McAllister was charged with four runs (three earned) on eight hits, ending with five strikeouts and three walks.
The Indians had their chances to swing the game's momentum back in their direction, but came up empty in a handful of opportunistic turns.
The Tribe had runners on the corners with two outs in the third inning, but slumping Reynolds grounded out to shortstop to end the threat. Cleveland put the leadoff man aboard in each of the fifth, sixth and seventh innings, but followed with a combined 0-for-7 showing, including a pair of double-play groundouts.
"We've rolled over too much into the 4-6-3 double play," Francona said. "We had a chance to kind of keep the line moving, and we get that roll-over double play and it takes us out of innings."
Facing closer Tom Wilhelmsen in the ninth, the Tribe had runners on the corners with no outs and still could not push the tying run across the plate. Pinch-runner Drew Stubbs was on third base when Gomes pulled a grounder to Seager, who fired the ball to second base to try for a double play. Stubbs sprinted for home, but then hesitated.
That flinch led to a rundown between third and home that ended with Stubbs being tagged out. Wilhelmsen then struck out Michael Bourn to end the game.
"I hesitated," Stubbs said. "We were running through a few different scenarios over there. When he went to second, I should've just broke for home. I didn't, and hesitated, and it cost us. That's all I can say."
That is the way things have been going for the Tribe of late.
"Right now, it's just tough for us," Stubbs said. "We're getting great efforts from our pitching. We've just got to do a better job of scoring runs."
Jordan Bastian is a reporter for MLB.com. Read his blog, Major League Bastian, and follow him on Twitter @MLBastian. This story was not subject to the approval of Major League Baseball or its clubs.