Chen solid early, Royals hold on late for win
Chen solid early, Royals hold on late for win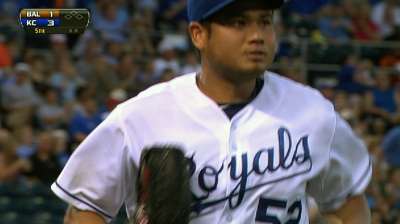 KANSAS CITY -- Starter Bruce Chen made it look calm and easy. Closer Greg Holland made it look chaotic and difficult.
Yet, in the end, their two worlds met and resulted in a 3-2 victory for Kansas City over the Orioles on Tuesday night at Kauffman Stadium. The Royals snapped the Orioles' winning streak at a season-high five games.
It was the finish that kept the 19,072 fans on edge.
Holland, called in to protect a 3-1 lead, immediately gave up a leadoff single to Nick Markakis and a triple to Adam Jones. Maybe the folks in the stands were tense, but a gentleman in the Royals' dugout was relaxed. Or so he said.
"They had a runner on third base with nobody out and I was completely comfortable," manager Ned Yost said. "I felt that Holly was going to get the job done. I think he's struck out the side six or seven times this year and I knew he had the stuff to get it done for us."
One reason for Yost's confident state was that he put his All-Star catcher, Salvador Perez, into the game to catch his All-Star closer. Perez was getting a rest, but replaced George Kottaras in the eighth inning primarily because of his ability to block pitches in the dirt.
"It's nice to have Salvy back there -- he's my closer, that's what I tell him," Holland said. "He comes into the game and with a man on third, you're not afraid to throw the ball in the dirt, because you know he's going to go get it. And that ended up being the case with [Chris] Davis."
Davis, the Majors' home-run leader with 37, struck out on a pitch into the dirt and Perez, after blocking the ball, threw him out at first base.
"We got ahead and executed some good pitches and expanded down in the zone and he went and blocked it and we got the first out, which was big," Holland said.
Still, Jones lurked at third base. Up came J.J. Hardy.
"Basically, I'm going to pitch Hardy tough, and if I fall behind we're basically going to put him on and take my chances on a double play," Holland said. "That was my thought process."
Not necessary, because Hardy bounced out to third base, with Jones holding. Up came Henry Urrutia and he rolled out. Game over. Holland had his 25th save and his 18th in a row.
Chen, who was making only his second start this season and got the win, was an interested observer as Holland worked.
"That's the guy we want in the ninth inning, no matter what the situation," Chen said. "With a guy on third base and nobody out, the chances of him scoring are very high, especially with Chris Davis coming up next. Once he struck out Davis and had Hardy at two strikes, I felt pretty good about it."
Chen felt pretty good about his own performance, because he gave up just one run, on Manny Machado's homer, in his six innings. He allowed three hits and no walks. After the homer, he retired the last 10 batters he faced.
"Machado's a good hitter, he has a very nice approach," Chen said. "He really reminds me of a young Alex Rodriguez. So you just try to make good pitches and he got one of them. I can't complain. We still had the lead and we got a win."
What was surprising was that the Royals couldn't forge a bigger lead against Orioles starter Jason Hammel. In his six innings, Hammel gave up 10 hits and four walks but just three runs, one in each of the first three innings.
"All three innings, they could have gotten out of hand real fast. And early too," Hammel said.
The Royals loaded the bases with no outs in the first inning -- Alex Gordon and Eric Hosmer each singled and Lorenzo Cain walked -- but the lone run came when Billy Butler bounced into a double play.
Three singles in the second inning by David Lough, Alcides Escobar and Chris Getz produced a single run. And the third inning began with singles by Cain and Butler and Mike Moustakas' one-run double, but that was it. Hammel got the next three batters on infield outs.
So, in the first three innings, the Royals stranded five runners, including four in scoring position.
But Chen wasn't giving up much of anything.
"He just keeps you off balance. He never gives in," Jones said. "It's a true testament to how he's maintained and stayed around as long as he has. He's not tricking you, because he can't blow it by anybody. He just makes his pitches. I was sitting out in center field wondering how we only had three hits. How? But he makes his pitches and you have to respect that."
The starting role, of course, is old stuff for Chen, who led the Royals in victories in each of the previous three seasons with 12 wins in both 2010 and '11 and 11 last year. After the Royals beefed up their rotation with offseason deals, Luis Mendoza beat out Chen for the fifth starter job in Spring Training this year.
But eventually Yost turned back to Chen. His first start after taking Mendoza's spot in the rotation resulted in six shutout innings at Cleveland on July 12, giving him an ERA of 0.75 over his two starts.
"That's an outstanding offensive club over there and what Bruce does so well is he changes speeds on everything he has," Yost said. "His fastball -- he'll throw one at 83 (mph) and then one at 87 and the 87 looks like 94 mixed in with the slow curveball, the changeup, the two-seamer. So he does a great job of on and off the gas with his velocities."
After Chen left, Kelvin Herrera and Aaron Crow each threw a scoreless inning to set up Holland's dramatic finish.
Dick Kaegel is a reporter for MLB.com. This story was not subject to the approval of Major League Baseball or its clubs.