Cozart backs Cingrani as Reds pummel Giants
Cozart backs Cingrani as Reds pummel Giants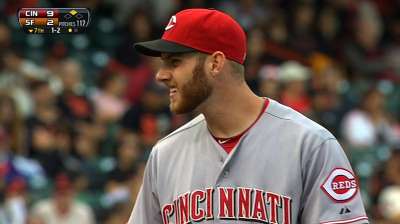 SAN FRANCISCO -- The Reds must be pleased with the way they've handled their three-day, four-game game series against the Giants with a doubleheader sandwiched in the middle.
Cincinnati scored seven runs through three innings in Game 1 of Tuesday's doubleheader and has scored 13 total runs in the first two games of their trip to AT&T Park.
Such early outputs have resulted in shortened outings from Giants starters. Eric Surkamp lasted just 2 2/3 innings in the Reds' 9-3 victory in the twin-bill opener, and Tim Lincecum exited Monday's game after 3 1/3 innings.
San Francisco's bullpen had accounted for 11 2/3 innings in two games, with Tuesday's nightcap still on the books. This all after the Giants used 16 relievers in the series prior against the Arizona Diamondbacks.
The Reds, meanwhile, received a second straight quality start one day after Bronson Arroyo's shutout.
Tony Cingrani tossed a career-high 118 pitches over 6 2/3 innings and gave up two runs in his role as Cincinnati's 26th man on the roster because of rules special to doubleheaders.
"I was battling myself a little bit," Cingrani said. "I couldn't get my offspeed pitches over too much, but it was enough to through six, and then I struggled a little the seventh."
The left-hander surrendered five hits, striking out two and walking three in his fourth start since July 3, and he was awarded with plenty of support, including his first RBI on his first hit in pro baseball.
Devin Mesoraco's three-run home run in the second inning provided the Reds with the lead and solo shots by Joey Votto and Zack Cozart -- who had a career-high-tying four hits -- provided insurance.
"We want to go out there and put up as many runs as you can, especially early to take a little pressure off the starting pitcher," Mesoraco said, "and that's what we were able to do the past two nights."
The substantial lead allowed Reds manager Dusty Baker to substitute players in preparation for Game 2. Shin-Soo Choo, along with Jay Bruce and Cozart, were replaced on defense in the seventh, leaving Choo hitless to end his career-best 16-game streak.
Jeff Kirshman is an associate reporter for MLB.com. This story was not subject to the approval of Major League Baseball or its clubs.