Miller frustrates Phillies en route to win No. 10
Miller frustrates Phillies en route to win No. 10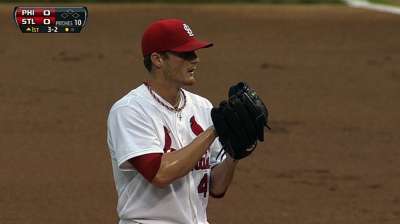 ST. LOUIS -- Shelby Miller had 12 days of rest heading into Tuesday's game, and it showed.
The rookie right-hander cut through the Phillies' lineup for six scoreless innings, striking out six while surrendering just three hits and a walk, and the Cardinals took the series opener against Philadelphia, 4-1, in front of 44,780 at Busch Stadium for their 60th victory.
"I think we did a really good job of getting ahead in the count, more so than in the past games that I've been having," Miller said. "I think that was the difference-maker. ... I felt like I could throw my pitches for strikes anytime I wanted to tonight."
With the All-Star break and multiple off-days that allowed the Cardinals to shuffle the rotation, Miller hadn't pitched since July 10, a 5-4 Cardinals win over the Astros. Tuesday he became the third St. Louis starter to reach 10 victories, following ace Adam Wainwright (a National League-best 13 wins) and Lance Lynn (11).
Miller combined his breaking ball and what manager Mike Matheny called one of his best changeups of the season with good fastball command to shut down the Phillies' bats.
"I learned lately that you can't live off just your fastball," he said, "especially when you're not throwing it for strikes."
Miller took advantage of the extended time between starts to rest his body and refine his mechanics and approach.
"I'm not saying I'm back to where I need to be, I don't feel perfect," he said. "You're never going to have that. But I do feel better, and I feel like I'm pretty prepared for the second half."
The 12-day layoff did have one ill effect on Miller's night, however, as the 22-year-old exited after six innings with a right calf cramp, which he said was fine after the game. With all the off-days, Miller said proper hydration fell by the wayside.
"He had a cramp kind of sneak up on him, so we had to be careful right there," Matheny said. "His at-bat was coming up, we had guys going in the 'pen. Everything kind of pointed in the direction we needed to shut him down."
The Cardinals complemented Miller's performance by chasing Philadelphia starter Jonathan Pettibone from the game after five innings, with seven hits, three walks and three earned runs against the righty.
St. Louis got rolling in the fourth inning with four straight base hits, including doubles from Allen Craig and Yadier Molina. Molina's double to left drove home Craig, and David Freese returned the favor, sending Molina home on an RBI single to build a 3-0 lead.
Craig entered the game batting .489 with runners in scoring position and drove home two runs while going 2-for-3 with a walk. Craig is among the NL leaders with 79 RBIs and has driven a runner home in 51 of the 94 games he has played this season.
"I think that, tonight, guys did an awesome job of really getting on base and getting into scoring position," Craig said. "Those guys were pitching me tough, but it makes it easier when there's a guy on third with less than two outs and I just try to put the ball in play. I had a couple good at-bats, and I was able to get it done."
"He's done some pretty impressive things," Matheny said. "We don't believe that it's just a flash in a pan. We believe that this guy has done it enough to prove that he's for real, and I think everybody else is starting to take notice. It's just taking them a little longer."
The Cardinals threatened to pile on more runs with the bases loaded in the fifth, but Pettibone struck out Freese to escape the jam, stranding three of the Cardinals' 10 men left on base.
"They were patient I think, early on when I was kind of in control," Pettibone said. "Then, when things started going the other way, they started to be more aggressive, a couple of first-pitch knocks and stuff. They kind of teeter-tottered throughout the game, staying aggressive, then remaining patient. They have a good lineup throughout, and they got the best of us."
John Mayberry put the Phillies on the board in the seventh, with a double against rookie reliever Seth Maness, who surrendered the only Philadelphia score. Carlos Beltran helped tack on an insurance run in the seventh, when he tripled to the left-field corner and reached home on Craig's single. Beltran's triple was the 77th of his career, ranking him seventh among active players, just one behind Curtis Granderson.
Cardinals shortstop Pete Kozma has broken out of an 0-for-27 slump, spanning 10 games, to log three multi-hit games in his last five, including a 2-for-4 night Tuesday. Kozma also made a diving catch in the third, when he snagged a line drive headed for left field.
"We felt that it was only a matter of time before he was going to be putting together better at-bats," Matheny said. "That confidence just breeds more confidence, and he's on a good roll. So, hopefully, he just stays with it."
Chad Thornburg is an associate reporter for MLB.com. This story was not subject to the approval of Major League Baseball or its clubs.