Holliday says hamstring strain is fully healed
Holliday says hamstring strain is fully healed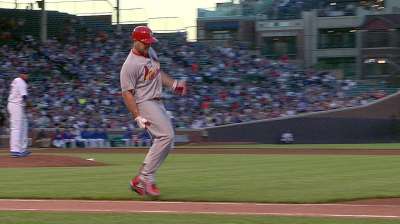 ST. LOUIS -- While he isn't eligible to come off the disabled list until Saturday, outfielder Matt Holliday said Tuesday that his right hamstring is now 100 percent healthy.
"I feel great," Holliday said. "I feel like the last couple of days have been just really good. I'll be ready to go [Saturday]. I'm ready to go right now."
Holliday ran at full speed without restrictions while the Phillies took some early batting practice Tuesday afternoon and should return to the lineup this weekend in Atlanta.
Holliday was placed on the DL last Saturday and has not played since suffering a right hamstring strain while running out a ground ball on July 11 against the Cubs. Although he said he's back to 100 percent several days before the end of his 15-day DL stint, Holliday said the move was still probably the right call.
"It's just hard when you look at that," Holliday said. "That's always a decision you can't really see into the future."
Chad Thornburg is an associate reporter for MLB.com. This story was not subject to the approval of Major League Baseball or its clubs.