Kelly likely to start in Atlanta on Saturday
Kelly likely to start in Atlanta on Saturday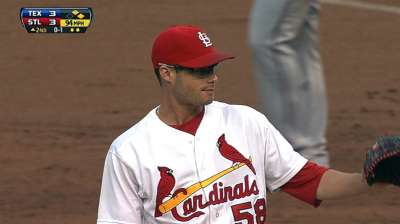 ST. LOUIS -- Cardinals manager Mike Matheny hasn't fully committed to a Saturday starter in Atlanta, but he said Tuesday that it's likely to be Joe Kelly.
"We're at that point where if we are going to go that route, it's going to be hard to use him [in relief]," Matheny said. "But Joe's done a nice job, so that's kind of our plan."
The one thing that could derail that plan, however, is a need for Kelly to pitch out of the bullpen before Saturday. Kelly has been the primary long reliever for the Cardinals this season and has filled in on several occasions when a starter has been pulled early. Carlos Martinez, who was being stretched out into a starter at Triple-A Memphis before his July 11 callup, could fill that role to keep Kelly on track to start.
"Something could drastically change that, depending on if we needed more help than what we thought we were going to," Matheny said. "Joe would be ready to jump in there, but we're starting to lean in that direction of having Joe ready [for Saturday]."
Kelly is 1-1 and has posted a 3.18 ERA in three starts this season.
Chad Thornburg is an associate reporter for MLB.com. This story was not subject to the approval of Major League Baseball or its clubs.