Brewers fall on eventful night on, off field
Brewers fall on eventful night on, off field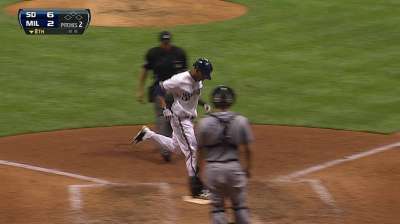 MILWAUKEE -- The Brewers are two games into their Ryan Braun-less period, but bad news is still following the team.
On a day they traded their closer, the Brewers may have lost another starter -- Donovan Hand, who left with a hand injury -- and were outplayed by the last-place Padres for the second straight night in a 6-2 loss at Miller Park on Tuesday.
San Diego out-hit the Brewers 15-4, with Padres starter Tyson Ross silencing Milwaukee's bats for the first six innings.
"Yeah, four hits again," Brewers manager Ron Roenicke said. "Ross comes out throwing 96, 97 [mph], good slider, and I understand some of that. But we need to battle better than we have the last couple of days and see if we can give our pitchers some runs and see what happens."
To be fair, the Brewers are without their Nos. 3-5 hitters. Braun was lost for the season on Monday, Corey Hart is out for the year due to injury and Roenicke says he still does not know when Aramis Ramirez will return from the disabled list.
So should Roenicke temper his expectations?
"I still expect the guys we have out there to produce, to scrap and battle and see if we can get some runs across," Roenicke said. "The way our pitching is right now, we [don't] have to score five, six, seven runs a game. So I don't think that's too much to ask, to go out there and at least [score] three, four, five runs and have some good battles up there."
He added: "We haven't really hammered the ball for a while now. Some of it is personnel, but I still expect a lot of these guys to have better at-bats. I think they're disappointed with the way they're swinging the bat, and that's a good thing. Hopefully we start swinging. We're going to need to."
Especially after losing two pitchers on Tuesday. After Milwaukee made its first move prior to the July 31 non-waiver Trade Deadline by sending Francisco Rodriguez to the Orioles for third base prospect Nick Delmonico, Hand exited the game with a bruised right hand.
He was drilled by a 97-mph fastball while squaring around to bunt on a third-inning pitch from Ross. The Brewers said X-rays were negative and Hand is day to day.
The rookie right-hander -- who has bounced between the bullpen and the starting rotation this season and made his fourth start on Tuesday -- stayed in to run the bases but left after pitching the fourth inning.
"I went back out for the fourth and everything was still good. It was swollen on the pinky side, but nothing major," Hand said. "After the fourth, I just really couldn't grip the ball anymore. Just a smart thing. Don't want to do something different, pitching-wise, and hurt something more."
Hand said he did not want to come out of the game, but thought better of the decision.
"I had good stuff tonight and had a game plan that was kind of taking effect," he said. "I finally started locating the ball, so I didn't really want to come out."
He breathed a sigh of relief when the X-rays came back negative.
"I was kind of worried about it. A tough place to get hit with 97 [mph]," he said. "No matter how hard it is, it's a tough place to get hit. Got lucky there. I pitch for a living, so I kind of need that hand."
The game was tied 1-1 entering the fourth when Will Venable wrapped a leadoff home run inside the right field foul pole off Hand.
The wheels fell off from there.
Reliever Tyler Thornburg took over for Hand in the fifth, and allowed four earned runs on seven hits in four innings. The Padres scored two runs in both the sixth and seventh innings, while the Brewers' offense had only two hits through six innings.
Nick Hundley hit a two-run home run in the sixth, and Mark Kotsay and Hundley added run-scoring singles in the seventh to pad San Diego's lead.
"They say hitting is contagious, but I think being able to string together good at-bats like that was great," Venable said. "You try to do that every night, but sometimes it works, sometimes it doesn't. This was a good all-around game for us."
The Padres had lost 16 of their last 19 entering the four-game set at Miller Park, but have taken the first two from the Brewers.
"They're a good young team," Roenicke said. "For a while there, they caught up in their division and they were playing really well, and then it was just recently that they haven't played as well. They still have a nice young team."
Juan Francisco's two-out single in the seventh was the Brewers' first hit since Jeff Bianchi led off the third with a single. And it was their first baserunner since Jonathan Lucroy walked to lead off the fourth.
Khris Davis, who was called up on Tuesday to take Braun's roster spot, hit his first career home run -- as a pinch-hitter to lead off the eighth, a tiny highlight in an otherwise bleak offensive performance for Milwaukee.
Davis has hit a home run in three consecutive games, the first two coming with Triple-A Nashville.
"It would've been nicer if we got a win with it. A win would've just capped that off," said Davis, who exchanged a picture and an autograph for the ball he hit with the fan that caught it. "I'm going to do whatever I can to help them win. I think I can play a part in this."
The Brewers scored their first run on Ross' wild throw on a pickoff attempt at first base in the third. He settled down, and retired 11 of the final 12 hitters he faced.
Ross picked up his first win of the year, after he was recalled from Triple-A Tucson on Tuesday for his fourth start with San Diego. He pitched six innings, allowing two hits and one earned run. He threw 82 pitches -- 51 for strikes.
It was the first time since June 15-16 that the Padres got consecutive wins from their starters after Andrew Cashner won on Monday.
Hand threw four innings, allowing two runs on seven hits and a walk. He threw 58 pitches -- 40 for strikes.
Kevin Massoth is an associate reporter for MLB.com. This story was not subject to the approval of Major League Baseball or its clubs.