Jay 'shocked' at former college teammate's admission
Jay 'shocked' at former college teammate's admission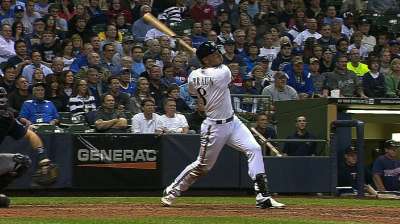 ST. LOUIS -- The news of Ryan Braun's 65-game suspension for violating the league's drug policy is reverberating throughout the baseball world, and St. Louis is not immune.
Much of Tuesday's pregame chatter between reporters and players centered around the former National League MVP (2011), a former Miami teammate of Cardinals center fielder Jon Jay.
"I was just as shocked as everyone else," Jay said. "I'm glad that he was finally able to come out and put this behind him and move forward. It just shows that Major League Baseball is doing the best job they can to clean the game, and I'm proud to say that and happy about that."
Braun was a sophomore at Miami when Jay arrived as a freshman in 2004. They were teammates for two seasons before Braun was selected No. 5 overall by the Brewers in the 2005 First-Year Player Draft.
"My thoughts aren't going to change on him," Jay said. "I know he's been there for me and been a good friend, and I've learned a lot from him over the years. And I'll stand by that. ... He obviously admitted to cheating, and I'm glad he's getting punished for it."
Cardinals manager Mike Matheny said he didn't have many reactions to share regarding another team's player, but did offer his thoughts on the issue of performance-enhancing drugs.
"I think there are a lot of guys who have just been kind of led in a bad direction and think they can get away with something like this," Matheny said. "There's no getting around it. Sooner or later, even if someone does do something new that slips through the system, it won't be long before they're caught, and then they've got to deal with that hanging over their heads the rest of their lives."
Chad Thornburg is an associate reporter for MLB.com. This story was not subject to the approval of Major League Baseball or its clubs.