Reds split peculiar twin bill in San Francisco
Reds split peculiar twin bill in San Francisco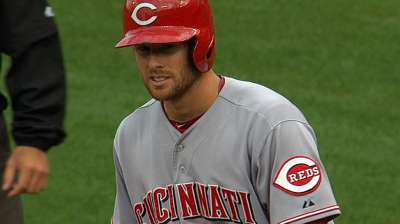 SAN FRANCISCO -- Missing from Game 1 of Tuesday's doubleheader between the Reds and Giants was the sense of finality that usually accompanies a game's completion.
There was no rush to the exits from the 42,310 fans in attendance at AT&T Park. The victorious Reds awarded each other with high-fives at the heart of the infield after the final out. The Giants' fans, muffled in defeat, sat in their seats and waited.
In many ways, the two-game affair simply felt like an extended contest with a 30-minute intermission. The two adversaries soon returned to the field to play the back nine innings of the doubleheader, wiped the scoreboard clean and started over.
Cloaked in red alternate jerseys with white pants and topped off with their road batting practice hats, the Reds served as pseudo hosts to the Giants at AT&T Park in a makeup game for their Fourth of July rainout in Cincinnati.
They fell in Game 2, 5-3, to finish the day 1-1 after Zack Cozart's four hits and three Reds homers backed a solid start by Tony Cingrani the Reds' 9-3 win in the opener. After 18 innings of baseball, the Reds (57-44) lost a half-game game on the National League Central-leading Cardinals, who won their game against the Phillies, 4-1.
"It felt like 18 innings," Reds manager Dusty Baker said. "The first one felt like 12 or 13."
In Game 2, San Francisco tagged Reds starter Greg Reynolds for three runs in a 30-pitch first inning and added an additional run one inning later to take the 4-0 lead. The Reds had limited the Giants to six runs in the five prior games they'd played this season.
Cincinnati's limited scoring in the second game can be attributed to its inability to produce with runners in scoring position. The Reds finished the game 1-for-12 in scoring opportunities, after starting Game 1 5-for-5.
"Just one or two would have been nice," Baker said. "We threatened. I think we had baserunners almost every inning. It looked like we had a man at second base a bunch of times, but the pitching shut us down."
The Reds' lone hit in run-scoring situations came in the second inning after consecutive singles by Jay Bruce and Todd Frazier led to a two-run double by Corky Miller to cut the deficit to 4-2. Cincinnati advanced runners to second base in every inning but the first.
"We were never really out of it," said Jay Bruce, who went 4-for-8 with four runs scored in the two games. "We just couldn't get the timely hit and Barry [Zito] was making enough pitches to skirt around it."
Zito allowed three runs on six hits and three walks in 4 2/3 innings in Game 2 after Eric Surkamp was knocked out of Game 1 in the third inning.
The Reds failed to take advantage of a Giants bullpen that had pitched 11 2/3 innings in two games leading up to the nightcap. Cincinnati, meanwhile, had set itself up more favorably after Cingrani pitched 6 2/3 innings in the opener and Bronson Arroyo threw a shutout in the game prior.
"They went through all their pitching and we were thinking if it went to extra innings, they wouldn't have anybody," Baker said. "Man, I just knew we were going to win that game. It just didn't happen."
Reynolds settled down after a difficult first inning to pitch five total on 77 pitches. The right-hander, a native of the Bay Area, surrendered five runs on eight hits, striking out and walking one apiece in his first time pitching in the stadium of the team he grew up supporting.
"I felt like I was throwing well," Reynolds said. "I just made a few mistakes in big spots where you can't afford to make mistakes. I felt good. I felt like for the most part I executed. But there's definitely a few pitches that I want back and I paid the price for it."
The Reds right-hander pointed to three pitches in particular -- all in the first inning -- as prominent mistakes: the 90-mph fastball he threw down the middle to Pablo Sandoval that went for a two-run double, the fastball on a 1-2 count that hit Buster Posey in the arm to set up Sandoval's double and the curveball to Hunter Pence one batter later that resulted in an RBI single.
"They scored most of their runs in that first inning," Baker said. "He threw the ball pretty good after that. One of the keys in that first inning was when he hit Posey, because he had 1-2 on him and the ball got away up and in. Then their left-handers started first-ball hitting off him.
"They weren't taking very much. That's what you do when you don't know a guy. You try to get the first fastball. All their left-handers jumped him early."
Despite the juxtaposition in runs between the two games, Cincinnati has still outscored the Giants, 37-11, in six games this season with Wednesday's series finale serving as the last game between the two teams this season.
If past results are any indication, the team that scores first will have the advantage.
"When they're not playing well, they tend to come out and be more aggressive," Baker said. "That's what you have to do sometimes when they're taking it to you. They got first blood tonight. That's kind of weird. Usually we're jumping them in the first inning. Tonight they were the visiting team and they jumped us in that first inning."
Sergio Romo struck out Devin Mesoraco to end Game 2 and the Reds' bid to become the first team in history to have a walk-off win while on the road. It was Bruce Bochy's 1,500th win as a big league manager.
Jeff Kirshman is an associate reporter for MLB.com. This story was not subject to the approval of Major League Baseball or its clubs.