Blue Jays clear air but can't hold off Dodgers
Blue Jays clear air but can't hold off Dodgers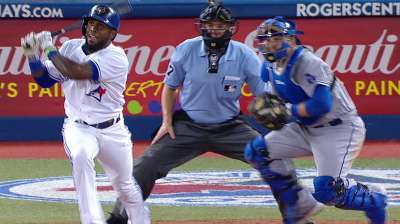 TORONTO -- It's much too early to know the impact of a players-only meeting prior to Tuesday's game vs. the Dodgers, but the early results are mixed.
After the offense staked the team to a five-run lead, the Blue Jays' tired bullpen couldn't hold it together as Toronto fell, 10-9, to the Dodgers in front of 32,158 at Rogers Centre.
"It doesn't get any worse than that, to be honest with you," said Blue Jays manager John Gibbons, whose team has lost six straight. "Games like that are going to happen every now and then, but it's really magnified now. We had a nice little lead, nine outs to go and we were in the driver's seat. Our 'pen has been very good, but they kept coming after us."
Darren Oliver came into the game in the eighth and quickly gave away the lead, and the game, before retiring a single batter. Oliver allowed a single and a walk before Dodgers first baseman Adrian Gonzalez hit a 1-1 fastball to straightaway center field to make it 9-8, giving the Dodgers their first lead of the game.
Andre Ethier then tacked on a needed insurance run off the veteran left-hander with a solo shot to put the Dodgers up by two.
"We got to give those guys some credit, they've got a good team over there," Oliver said. "Nobody is lying down. They beat us tonight. There's a reason why they've gone on the streak that they've been on. They're playing good baseball."
After Monday's debacle, in which the bullpen threw seven innings and everyone but Juan Perez got into the game, the club's relievers were understandably tired. Toronto's bullpen has thrown a Major League-leading 353 1/3 innings, an average of 3.57 innings a game.
Despite that, it marked only the first time all season the Blue Jays have lost a game when leading after seven, dropping them to 34-1 on the season.
"That might be a factor," Gibbons said when asked if his bullpen was overworked. "Yesterday wasn't ideal and today, who knows, [it was against a] pretty good hitting team, too."
The usually reliable Brett Cecil was the first to spring a leak from the bullpen. He gave up three earned runs, but the Blue Jays narrowly escaped the seventh inning with the lead intact as Dustin McGowan got Ethier on a forceout at the plate for the final out, leaving the bases loaded.
Despite the blowup, the Blue Jays were able to put the tying run in scoring position, with the winning run at first against Dodgers closer Kenley Jansen. However, Jansen got Brett Lawrie to fly out to the warning track in left field to end the game.
"Any loss is frustrating, but the ones that you feel like you were one hit away or one pitch away definitely hurt a little more," said Jose Bautista, whose team has had the tying or winning run on base in three of their last four losses.
"It doesn't make it more frustrating, it makes it just regular frustrating, I guess"
For the Blue Jays, the loss makes it six in a row for the club, and their first with Todd Redmond on the mound.
Making only his third start for the club, Redmond limited the damage, avoided the big inning, and gave his team a chance to win. He retired nine of his first 10 batters, but had to walk a tightrope to make it through a bumpy fourth inning to get there.
After the Blue Jays broke open the scoring in the third with a pair of runs, the 28-year-old quickly gave up the lead in the fourth, and the Dodgers had men on the corners with one away. However, Redmond struck out the next two batters to hold the game tied at 2.
"I thought he did a great job," Gibbons said. "He gave us what we needed, and like I said, it's not an easy lineup to face and he held them in check. Honestly, you look at what he has done for us, filling in that role, every night he has given us a good effort, he really has."
Toronto's post-All-Star break continued with a whimper, despite the airing out of grievances in a 75-minute players-only meeting prior to the game.
"Sometimes teams just need to get together and air some stuff," said Bautsita, who hit his 23rd home run of the season. "Teammates have to know what everyone's thinking, what's in everyone's head."
The Blue Jays are now winless since the Midsummer Classic and are 7-18 since their 11-game winning streak was snapped.
"We have a lot of great, capable baseball players in this room, but we're just not getting the results right now," Bautista said. "We fight every day and come in ready to work, and ready to win a game, but it's not rolling our way right now."
Evan Peaslee is an associate reporter for MLB.com. This story was not subject to the approval of Major League Baseball or its clubs.