Adrian's big blast pushes Dodgers' rally over top
Adrian's big blast pushes Dodgers' rally over top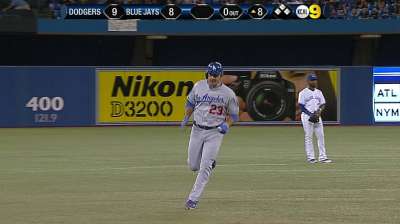 TORONTO -- The form reversal that catapulted the Dodgers from worst to first in a month continued Tuesday night.
They've already shown they can win on the road and within the division, can hit with runners in scoring position and the bullpen can close out games. Now they've showed another mark of a top team by rallying from a five-run deficit in the final three innings to edge the last-place Blue Jays, 10-9.
"You don't feel great down, 8-3, but you also know you've got three or four innings and we've been throwing up big innings," manager Don Mattingly said. "We feel capable. We're never really out of it."
So the Dodgers, 1-35 when trailing after seven innings prior to this game, scored three runs in the seventh and four more in the eighth, when Adrian Gonzalez's three-run homer put the Dodgers ahead and Andre Ethier's solo shot provided an insurance run that turned into the difference.
"On the 21st of last month we're in last place and 33 days later if you would have told me back then we'd be in first place, a half-game up and four or five games over .500, everybody in the world would have said, no way," Gonzalez said. "It's great we've gotten it done, but we still have to grind with two months left."
Gonzalez has been the exception to the Dodgers rule this year. He hasn't been hurt while he's also been the most consistent of all the highly paid run producers. He's hitting .300 with a team-high 15 homers and 62 RBIs after driving in three in this game, as did Ethier and Mark Ellis.
"For me, Adrian has been the guy all year," said Mattingly. "Hanley [Ramirez] has been really hot. Adrian doesn't get the same attention because he's been consistent. I like the fact guys trust each other to take the hits and take the walks. Pass the baton."
Jerry Hairston also homered as the Dodgers ran their record since June 22 to 22-5. They are 5-0 coming out of the All-Star break and maybe they'll never lose again.
"That'd be the plan," wisecracked Mattingly.
And Toronto, in two games, has been blown out and watched the bullpen implode.
"It doesn't get any worse than that to be honest with you, considering where we're at," said Toronto manager John Gibbons, whose team has lost six straight. "Games like that are going to happen every now and then, but it's really magnified now. We had a nice little lead, nine outs to go and we were in the driver's seat. Our 'pen has been very good but they kept coming after us, they have a pretty good lineup."
Another in a series of offensive eruptions took the heat off starter Chris Capuano and new reliever Carlos Marmol. Capuano was charged with five runs in 4 1/3 innings, pitching on 11 days' rest because of the All-Star break.
"It was a tough day personally," said Capuano, who allowed a pair of home runs. "But it was a lot of fun to watch us battle back and not give away any at-bats. There have been times earlier in the year we would have felt out of it. I don't think anybody felt out of it tonight and it's a great attitude to have."
Marmol, obtained two weeks ago from the Cubs to provide veteran depth, then sent to the Minor Leagues to work on mechanical flaws, was promoted Tuesday and allowed three runs on four hits, including a Jose Reyes home run, in 1 2/3 innings.
"You can tell he gets going fast and he gets going everywhere," said Mattingly. "He gave up a home run but got three outs. A little good, a little bad."
The Dodgers, who scored a season-high 14 runs and won by nine Monday night, scored three runs in the seventh when six consecutive batters reached base with only one ball hit hard. That was a two-run single by Ellis, who is 10-for-20 since the break.
"We've got a longer lineup with somebody like Hanley in there," said Ellis. "We make the pitcher work, whether we get a hit or not. You see that out of a lot of good hitting teams."
The eighth opened with a single by Carl Crawford, a well-earned walk by Yasiel Puig, Gonzalez's 15th home run to dead center and Ethier's seventh, a line drive to right.
Brandon League (4-3) got the win, overcoming a pair of infield errors in a scoreless two-thirds of an inning. Kenley Jansen was credited with the save, despite allowing a run in the ninth, with the game ending on Brett Lawrie's long fly to left caught by Crawford with the tying and winning runs on base.
Ronald Belisario pitched a scoreless eighth inning and has not allowed an earned run in his last 16 appearances over 14 innings.
Ken Gurnick is a reporter for MLB.com. This story was not subject to the approval of Major League Baseball or its clubs.