Thanks to strong Lester, Red Sox increase East lead
Thanks to strong Lester, Red Sox increase East lead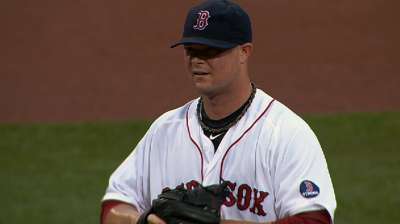 BOSTON -- Maybe a physical and mental breather was just what Jon Lester needed to rediscover the form the Red Sox need him to have for the stretch run.
Coming off 10 days of rest, the lefty put together a strong performance, leading his team to a 6-2 victory over the surging Tampa Bay Rays.
Thanks to Lester, Boston opened a 1 1/2-game lead over Tampa Bay in the American League East. A loss would have put manager John Farrell's team out of first for the first time since May 26.
"You never want to diminish any start, but again, where we are in the standings, where they are, knowing we're still only in July, but still, this was a big game for us tonight," said Farrell. "For him to come out and respond and take control of the game as he did was very encouraging."
Lester went 6 1/3 innings, scattering seven hits and two runs. He walked none and struck out eight.
"I think you can always benefit from extra days [of rest]," said Lester. "I think there's times where they're needed and times where they can get you out of a little bit of a rhythm. But I think those three or four days of not throwing and staying here, just kind of getting a mental and physical break, I think that's always nice."
Going into Tuesday's start, Lester had gone 2-6 with a 6.27 ERA in his previous 11 outings.
With Clay Buchholz still out for weeks instead of days, Lester's importance is even greater than usual.
"Tonight was probably as powerful as he's been all year," said Farrell. "Another step in the right way for him."
After Lester gave up a one-out double to Jose Molina in the seventh, Farrell went out to get him, the Red Sox holding a one-run lead at the time.
Lefty Matt Thornton induced Sean Rodriguez into a groundout. Righty Junichi Tazawa then came on and struck out Desmond Jennings, leaving the potential tying run on base.
Tazawa also threw a 1-2-3 eighth, looking the sharpest he's been in some time.
"The last inning he went in there, in the eighth, that's the biggest inning of the game right there, because you're going through the meat of their lineup," said catcher Jarrod Saltalamacchia. "A couple [of their] guys have hit homers. I put my glove down and away, and he hit it right on the spot."
The Red Sox added some insurance in the bottom of the eighth on an RBI single by Stephen Drew and Jose Iglesias' two-run single off the glove of shortstop Yunel Escobar.
Wil Myers opened the scoring when he skied one over the Green Monster for a solo shot to lead off the top of the second.
"That was pretty cool, especially to be able to hit it over the Monster. That's a pretty cool deal," said Myers.
The Red Sox bounced right back in the bottom of the inning. David Ortiz started it with a single to center, but he was thrown out trying to go first to third on a single into the left-field corner by Mike Napoli. Mike Carp smacked a single to right, and Napoli scored to tie it.
Some head's-up baserunning by Shane Victorino allowed Boston to take the lead in the third. With runners at the corners, Dustin Pedroia took off for a steal of second. Victorino, inching about halfway down the line from third, took off for home and was credited with a steal, even though Molina's short throw was bobbled by Escobar.
"Instinct," said Victorino. "With Papi up, they gave me enough space. Once I saw the release -- that's why I hesitated -- I wanted to make sure the ball was released before I took off. That's why it looked that way. That's one of those things [where] you have to instinctively analyze the situation. Once I saw the release, I took off for home."
A sacrifice fly by Pedroia in the fifth increased Boston's lead to two runs.
Evan Longoria got one of those runs back by drilling a solo shot to left in the sixth, but the two solo blows were hardly enough to dent a solid night by Lester.
"Being able to command all four pitches [was the difference]," Lester said. "There have been times this year where I've felt better as far as power or a certain pitch or whatever, but as far as all four pitches being consistent for the most part? Tonight, yeah, it was pretty good."
How important is Lester to the Red Sox?
"Real important," Saltalamacchia said. "I said it three or four months ago: We're going to go to the World Series and win it with him. Can't do it without him."
Ian Browne is a reporter for MLB.com. Read his blog, Brownie Points, and follow him on Twitter @IanMBrowne. This story was not subject to the approval of Major League Baseball or its clubs.