Moore weighs in on Braun's suspension
Moore weighs in on Braun's suspension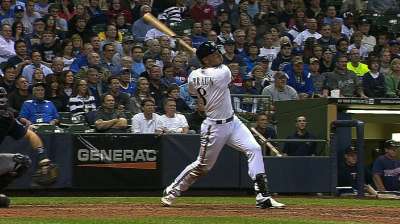 BOSTON -- Team union rep Matt Moore was asked about Ryan Braun's 65-game suspension, which was announced on Monday.
Braun was suspended for the rest of the season without pay for violating the Joint Drug Agreement. He admitted using performance-enhancing drugs, though he did not give any specifics.
Braun tested positive for elevated levels of testosterone following the 2011 season but successfully appealed the suspension and later claimed that he had done nothing wrong.
"I think the most irritating part with the whole thing, after the failed test, from everybody's understanding, that was supposed to be the truth with what he was saying," Moore said. "Turns out it was far from it. And I think that's the most irritating and disrespectful part, that everybody was lied to.
"If this had been one of those situations where a guy gets caught and he hadn't told us he was doing it, it's a little different. But under the circumstances right now, while it's a step in the right direction, it's a shadow on the game that we are definitely trying to get rid of. It's good for solving the problem, but it's bad for the game also, it puts it in a bad light."
Bill Chastain is a reporter for MLB.com. This story was not subject to the approval of Major League Baseball or its clubs.