Given early cushion, Cole cruises in nation's capital
Given early cushion, Cole cruises in nation's capital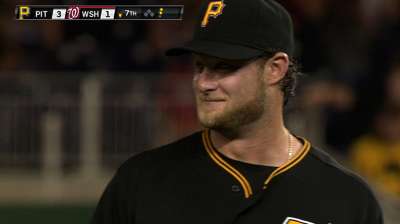 WASHINGTON -- Instead of taking their bats up to the plate, perhaps the Pirates ought to use them for a little bonfire on the on-deck circle while stepping into the batter's box holding mirrors.
Smoke and mirrors. That's how the Bucs have done it lately. The Greatest Show in The Show. Instead of gravity, the Pirates are defying something even better: logic.
So Tuesday night's 5-1 triumph over the Nationals was less a game than an act. The same act, in fact: the Pirates' 2-for-8 with men in scoring position made them 2-for-18 in the first two games of this series -- both of which they have won.
"That's who we are. We're just playing the game," manager Clint Hurdle said of his enterprising crew. "We've got to do the little things. We were able to do some good little things tonight."
The best thing about the Pirates on Tuesday night was Gerrit Cole, who bounced back from a few mediocre outings with the outstanding performance of his nascent career. The Cole Train chugged through seven innings and allowed only two hits -- one of them a Wilson Ramos homer for the Nationals' lone run.
Much of the world -- OK, a large part of Pittsburgh -- was anxious to see how the Pirates handled their first game following the loss of closer Jason Grilli. So, naturally, they had a rare victory not involving a save situation.
Hurdle thus was afforded essentially a dress rehearsal of his revised end-game: Bryan Morris worked a stress-free eighth, then Mark Melancon did the same in the ninth.
"Getting out of the first inning, that was good," Cole, who has weathered a couple of rough beginnings, said in enumerating the highlights of his seventh start. "[Bryce] Harper led off with a single, but I guess anytime you keep that guy in the park, you're doing all right."
Harper was erased by catcher Russell Martin attempting to steal. Then came Ramos' home run leading off the third. Thereafter, Cole retired 15 of the last 16 men he faced (only a fifth-inning walk of Ian Desmond interrupting the streak).
"Conviction and command -- both very solid," Hurdle said. "Short innings. All three of his pitches were working. The fastball jumped from 92 to 98 [mph]. Good angles to the breaking ball. Stuff played well -- and hitters he did get behind, he still got them out."
"I just kept it slow out there. I fell behind some guys and was still able to make pitches," said Cole, agreeing.
There was even a bit of offensive normalcy near the conclusion of win No. 59, with Pedro Alvarez drilling a solo homer, his 25th, in the eighth. Later in that inning, Gaby Sanchez lined an RBI double up the right-center gap with Martin on third.
Even with that clutch blow by Sanchez, the Bucs are 4-for-45 with men in scoring position in the first five games out of the All-Star break -- winning the last three of them.
"Good news, bad news? Couldn't put it better myself," said Hurdle, still waiting for those "numbers to get aligned, and when they do, it'll be much better."
Cole issued only one walk while fanning four and needed each of his sharp 92 pitches to decision Taylor Jordan, Washington's own rookie right-hander who couldn't overcome one glitchy inning.
That was the second, when the Bucs, while mirroring their own recent offensive hardships, exploited the smoke of an error by Nationals second baseman Anthony Rendon into a three-run inning.
After loading the bases on singles by Alvarez and Martin and a walk to Garrett Jones, the Bucs cashed in one run when Neil Walker bounced into a force. The inning then should have ended on Jordy Mercer's hard-hit double-play grounder to third baseman Ryan Zimmerman -- except Rendon simply dropped the feed to allow a run and prolong the inning.
At that point, the Pirates had 12 opportunities with men in scoring position in this series without yet a hit. So the guy breaking that drought naturally was someone who doesn't get paid to hit.
After feigning a bunt to put the Nationals infield in motion, Cole drew back his bat and bounced an RBI single into left to cap the three-run rally.
"A different kind of inning for us to score three," Hurdle summed up. "We got a groundout, went hard into second [Walker's slide might have distracted Rendon], worked the 'butcher boy' with the pitcher. That's the way we have to do it, get production all the way down the lineup and any which way."
Jordan remained winless through four starts, despite posting an ERA of 3.68.
"He has pitched well since he has been up here," said Washington outfielder Jayson Werth. "He has grown, he is learning as he goes. He is getting some on-the-job training. He has good stuff. He is a good-looking pitcher."
Cole had only two genuinely nervous moments, in consecutive innings. He thought he had delivered a second-inning gopher pitch to Adam LaRoche -- then saw left fielder Starling Marte soar against the left-field fence for the catch. In the third, Ramos' drive to center soared just beyond Andrew McCutchen's leap, clearing the wall for his third of the season.
Walker had an active, successful return after missing 11 1/2 games with a mild strain of his right oblique. In addition to being credited with driving in the game's first run, he was more impactful by characteristically blanketing his position, snaring grounders for six assists and picking up a pair of other chances.
Tom Singer is a reporter for MLB.com and writes an MLBlog Change for a Nickel. He can also be found on Twitter @Tom_Singer. This story was not subject to the approval of Major League Baseball or its clubs.