Tigers pick up slack in Miggy's absence
Tigers pick up slack in Miggy's absence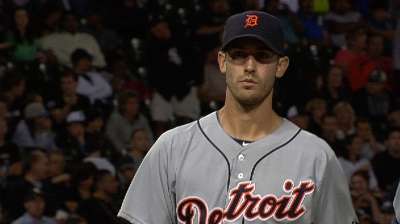 CHICAGO -- By virtue of an unorthodox schedule, the Tigers and White Sox didn't meet this season until just before the All-Star break. That means they've got 14 meetings remaining.
So, it seems, lucky for the Tigers.
The White Sox, who actually took two of three in their first series in Detroit before the break, have made a habit this week of making life easy on the Tigers. The latest episode was a ho-hum 6-2 Tigers win on Tuesday night at U.S. Cellular Field, where the White Sox made a season-high four errors.
These teams have had plenty of contentious battles in the American League Central over the last decade. But with the Tigers seemingly fighting only the Indians in the division this season, the White Sox can still have a say in who wins the Central crown. Lately, they've been doing the Tigers a favor.
"Each year that I've been here and played them, they've been very, very tough defensively," Tigers starter Rick Porcello said. "They've been really, really good. They're a solid ballclub. Today was just one of those nights for them, I think."
Certainly Porcello was the primary beneficiary of the offense the Tigers generated thanks to Chicago's haphazard play, but he was excellent on the mound in his own right. The right-hander admitted to needing an inning or two -- he threw 25 pitches in the first -- to get his bearings in his first start out of the All-Star break, but he settled in just fine after that.
He loaded the bases in the first, but stranded the three runners, and from there needed eight pitches or fewer to complete three of the next four innings. Porcello finished with 93 pitches over his seven innings, striking out only one and also setting a season high with three walks (two in the first inning).
"That first inning was pretty shaky," Porcello said. "I think just not being on the mound in a game situation for a while was causing me to kind of be off rhythm. It felt a little foreign, but I battled through it and the guys made some outstanding plays behind me that really helped me out."
Without Miguel Cabrera in the lineup -- nursing a sore left hip flexor that could keep him out of one of the final two games of the series, or both -- the Tigers scored their six runs on just five hits, thanks to five Hector Santiago walks and the four errors. Chicago has made seven errors in two games already this series, and eight of the Tigers' 13 runs have been unearned.
"You just can't play like that and expect to be in the game," White Sox manager Robin Ventura said. "You give them that many opportunities and you're going to pay for it."
Without Cabrera, Victor Martinez and Jhonny Peralta stayed hot to pace the offense. Martinez, now hitting .415 this month, had a double and scored a run, while Peralta went 2-for-4 with a homer to left that measured 382 feet.
Chicago committed two errors in the fourth -- Matt Tuiasosopo reached on Conor Gillaspie's miscue at third base and scored on a Peralta single -- as two walks and a sacrifice fly also helped bring in runs.
Then Peralta homered with one out in the sixth to make it 4-0, and Alex Avila followed with a walk. Up came rookie callup Hernan Perez -- filling in for the injured Omar Infante, and seeing the bulk of the innings against Chicago's lefties -- who drilled a Santiago fastball into left-center field. Dayan Viciedo mishandled it badly as Perez hustled around the bases and scored. Perez was credited with a triple and Viciedo was charged with Chicago's fourth error.
"I saw the outfielder grabbing the ball, then [third-base coach Tom Brookens] sent me and I said, 'Oh, I have to make it'" Perez said.
In the ninth, the White Sox converted two Al Alburquerque walks with Paul Konerko's two-run double off Joaquin Benoit to prevent a shutout.
"He had a tremendous inning and we tried to get one more because he had a pretty easy inning," Tigers manager Jim Leyland said of Alburquerque. "But he just had a tough time getting it over in that last inning, so we felt like we had to go to Benoit, particularly in a ballpark like this."
Joey Nowak is a reporter for MLB.com. Follow him on Twitter at @joeynowak. This story was not subject to the approval of Major League Baseball or its clubs.