Defensive mistakes again hurt Santiago, White Sox
Defensive mistakes again hurt Santiago, White Sox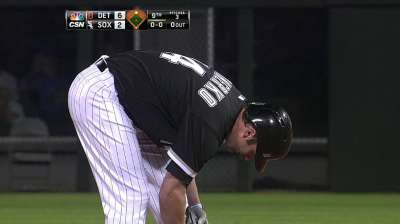 CHICAGO -- A season defined in many ways by defensive miscues only got worse for the White Sox on Tuesday night in a 6-2 loss to the Tigers in front of 25,919 at U.S. Cellular Field. After tying a season high with three errors in their series-opening loss to Detroit on Monday night, the White Sox eclipsed that mark with four errors that led to three unearned runs.
"[With a lineup like Detroit's] you just can't play like that and expect to be in the game," White Sox manager Robin Ventura said. "You give them that many opportunities, you're going to pay for it."
And pay for it the White Sox did.
The defensive lapses began in the fourth with the game scoreless, when Matt Tuiasosopo hit a ground ball that was booted and then bobbled by third baseman Conor Gillaspie, enabling Tuiasosopo to reach first.
Detroit would plate three runs -- two unearned -- in the inning off White Sox starter Hector Santiago thanks to a double by Victor Martinez, an RBI single by Jhonny Peralta, a bases-loaded walk by Don Kelly and a sacrifice fly by Hernan Perez.
Santiago admitted that the five walks he issued, including the free pass to Kelly, were a result of him trying to strike out Detroit's hitters rather than having them put the ball in play for his defense.
"After that error there in the fourth, I feel like I tried to make better pitches there than I needed to," Santiago said. "Instead of just going with the team game plan, I tried to actually pick [the defense] up and put more pressure on myself to make better pitches and just get out of it."
With Detroit leading 3-0 in the sixth, the defensive difficulties continued. After a solo homer by Peralta and walk by Alex Avila, Perez tripled to left-center where Dayan Viciedo bobbled the ball multiple times, enabling Perez to score to make it 6-0.
Paul Konerko, who drove in the only two runs for the White Sox with a ninth-inning double, said that he feels for Santiago and the others on the White Sox pitching staff who have suffered as a result of the defensive problems the club has had this season.
"It's a shame because we've cost our pitchers a lot of games where they should have had better chances to win games," Konerko said. "It's definitely a good lesson in showing what defense can do and keep you in games and this year has been the reverse. It's tough."
Santiago (3-6) tossed six innings, giving up three earned runs on five hits and the five walks while fanning six.
In the first two games of the four-game set with the Tigers, the White Sox have allowed Detroit to score 13 runs, eight of which were unearned. Detroit's offense was able to give starter Rick Porcello (7-6) more than enough support despite not having Miguel Cabrera in the lineup because of a sore left hip flexor.
"Each year that I've been here and played them, they've been very, very tough defensively," Porcello said of the White Sox. "They've been really, really good. They're a solid ballclub. Today was just one of those nights for them, I think. We were fortunate enough to capitalize on some of their mistakes, and luckily it went in our favor."
Konerko added that the defensive issues this season seem to have snowballed, and that the club is having a hard time getting the ball to stop rolling.
"The ball just got rolling down the hill the wrong way and we haven't stopped it," he explained. "It's definitely a contagious thing. We have some guys that are really good defenders that have even gotten swallowed up in it."
Before the poor White Sox defense became the story of the night, the game got off to an unusual start. With one out in the first inning and Torii Hunter on first, Santiago struck out Tuiasosopo with Hunter running on the pitch. Hunter turned back toward first after realizing he was caught, and in the ensuing rundown Adam Dunn was called for obstruction by standing in Hunter's path back to the bag.
Ventura argued the call with first-base umpire Gary Darling and was ejected from the game. As for his club's defensive nightmare, Ventura said there's nothing else to do but keep working.
"I don't think there's any point you just, you know, give up on it," he said. "It's an important part of the game and you've just got to keep harping on it. There's nothing else you can do but keep getting after it."
With the loss, the White Sox tied a season low by falling to 19 games under .500, and are now a season-high 15 games behind first-place Detroit in the American League Central.
Manny Randhawa is an associate reporter for MLB.com. This story was not subject to the approval of Major League Baseball or its clubs.