Reds rack up runs behind Arroyo's shutout
Reds rack up runs behind Arroyo's shutout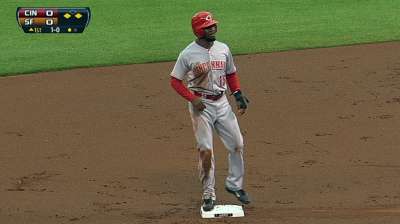 SAN FRANCISCO -- The Reds will bat last and wear home uniforms in Game 2 of Tuesday's doubleheader, but in reality they've felt right at home at AT&T Park for quite a while now.
With Monday's 11-0 drubbing of the Giants, Cincinnati has won five of its last six contests in San Francisco, including the first pair of games of the 2012 National League Division Series. They've outscored the Giants 25-3 while going 4-0 against the club that eventually knocked them out of the playoffs last October.
The Reds tattooed Giants starter Tim Lincecum for eight runs on nine hits in 3 2/3 innings in the right-hander's first start since his 148-pitch no-hitter July 13.
"Yeah, that was the way to start a road trip," Reds manager Dusty Baker said. "I don't think I've ever seen that previous to a doubleheader.
"I couldn't have ordered it up any better."
Shin-Soo Choo sparked the Reds' lineup with a double to lead off the game, extending his career-best hitting streak to 16 games. With two outs, Todd Frazier lined a double over center fielder Andres Torres' outstretched arm that cleared the bases for a 3-0 lead.
"That was a big, big play with that two-out double when it looked like Lincecum would get out of trouble," Baker said.
In all, Lincecum labored through a 31-pitch first inning in his first start in nine days.
"He was so close to getting out of the first," Giants manager Bruce Bochy said. "I'm sure that was deflating for him."
Cincinnati's offensive explosion continued for most of the evening, as the club made a bid to become the fourth team since 1900 to score in all nine innings of a game, a feat accomplished most recently by the Rockies in 1999.
"That's what we want to do," Baker said. "We went up and down the lineup. I was hoping to [score in all nine innings]. This game's a funny game. Sometimes you can't buy a run and sometimes [they're easy to come by]."
The Reds clubbed three home runs off Lincecum, which tied the most the Giants hurler has yielded in one game. Devin Mesoraco fell a triple short of the cycle. No Red has hit for the cycle since Eric Davis in 1989.
In all, the Reds amassed nine extra-base hits and plenty of run support for starter Bronson Arroyo, who won his 100th game as a Red with his sixth career shutout.
"That's big, No. 100," Arroyo said. "It makes me realize I've been here awhile and the years go by quickly."
Baker said Arroyo's key was "trusting" cavernous AT&T Park, and Arroyo agreed with his manager's evaluation.
"I think all the ballparks on the West Coast are bigger and there's more room for error," Arroyo said. "Here you have the opportunity to pitch some big parts of the ballpark."
The Giants scattered seven singles in Arroyo's 15th career complete game. The outing marked Arroyo's eighth quality start in his past nine outings. He's morphed into the Reds' de facto stopper, improving to 6-0 this season after a Cincinnati loss. The Reds have won each of his nine starts coming off a defeat and began the 10-game West Coast road trip on a winning note Monday.
"The times we have struggled on the West Coast, it's because we haven't won the first couple games and didn't rebound," Arroyo said.
Baker originally had slated Chris Heisey into the second slot of the lineup, but changed his mind shortly before first pitch to protect the outfielder, who recently came off the disabled list after missing two months with a strained right hamstring. His replacement, Derrick Robinson, rewarded Baker with a 3-for-5 performance at the plate and scored three runs. He capped off Arroyo's shutout by robbing Jeff Francoeur of a home run to straightaway center field.
"It's the first game D-Rob has started in a while, and sometimes you just get that feeling," Baker said.
In order to preserve the bullpen ahead of Tuesday's doubleheader, Bochy used just two relievers after Lincecum's brief outing and replaced catcher Buster Posey after four innings. Baker used four reserves to keep his regulars fresh.
Andrew Owens is an associate reporter for MLB.com. Follow him on Twitter @OwensAndrew. This story was not subject to the approval of Major League Baseball or its clubs.