Lineup limited as Tribe gets edged in opener
Lineup limited as Tribe gets edged in opener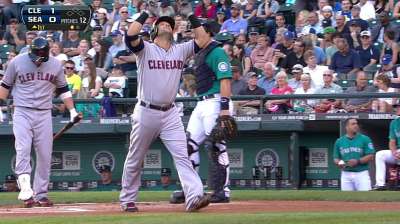 SEATTLE -- The Indians switched up their lineup on Monday night in an effort to get Nick Swisher hot at the plate. For one night, the strategy worked. The only problem was that the rest of Cleveland's batting order went cold.
In the opener of a three-game series with the Mariners, the Tribe could not solve right-hander Aaron Harang in a 2-1 loss at Safeco Field. Indians starter Ubaldo Jimenez turned in an admirable effort and Swisher showed the kind of power he had been lacking of late, but that combination proved insufficient.
"It's nice to kind of get back on track," Swisher said. "But it's frustrating not being able to score any runs. Ubaldo did a great job. The bullpen comes in and does a great job. For a team that's been hot as a firecracker over there, for us to hold them at two runs, we've got to score more runs than that.
"We've got to pick up that win."
With the defeat, Cleveland slipped to 1-3 with two games remaining on its swing through Minnesota and Seattle. The Indians broke out for seven runs in a win over the Twins on Sunday, but have scored just five runs combined in the three one-run losses on this road trip.
The Tribe's rotation has combined to allow just three earned runs over the past four games and has fashioned an American League-leading 1.99 ERA dating back to July 7. For all that success, Cleveland's starters have just one win and two no-decisions to show for their effort since the All-Star break.
"We're not rolling," Indians manager Terry Francona said of his lineup. "Our pitching, thankfully, is keeping us in games. If our pitching keeps pitching like this, we're going to be just fine. We've just got to keep plugging away."
After considering the change for weeks, Francona finally pulled Swisher out of the cleanup spot and moved him up to the second slot of the order for the Tribe. In his first at-bat as Cleveland's new No. 2 hitter, Swisher made his manager look like a genius, slashing a pitch from Harang deep to left field for a home run that put the Indians up, 1-0.
The blast marked Swisher's 10th long ball of the season and his first since July 6 for the Indians (52-47). He collected his first RBI since July 9 with the home run and later added a single to center field in the third inning. Call it a sign of progress for a key piece within Cleveland's lineup, but the club needed much more on this night.
"It started off real promising," Francona said. "Swish takes that beautiful swing, and that's really all we had."
Following Swisher's homer, Harang settled in and cruised through the Indians' order.
Jimenez (7-5) did what he could to buy Cleveland's offense some time, pitching into the sixth inning and sidestepping plenty of trouble along the way. The right-hander did allow a pair of solo home runs -- one to Kendrys Morales in the fourth and another to Mike Zunino in the fifth -- but he limited the damage of the other seven baserunners he allowed.
Morales' no-doubt shot into the right-field seats -- his 15th homer of the season -- snapped a streak of 88 innings without a home run surrendered by Cleveland's pitching staff. It marked the longest such run for a Cleveland staff since going 96 innings with no home runs allowed from July 11-24, 1992.
Jimenez simply made one mistake too many.
"It is tough," Jimenez said. "The main thing is you want to minimize the mistakes. You don't want to be making mistakes, especially with a hitter like Morales. He has a lot of power. If you make a mistake, like I did with that pitch, he's going to hit it a long way."
It wasn't much in the way of support, but Harang used the slim margin to his advantage with seven crisp innings for the Mariners (47-52). The veteran right-hander induced 10 groundouts and scattered four hits, ending his outing with just two strikeouts and one walk. Harang retired the last nine hitters he faced, needing only 11 pitches to breeze through the last six in that span.
"Early in the game they were trying to get my pitch count up," Harang said. "They came out the second and third time around, they started to be a little more aggressive, swinging at pitches early, knowing that I'm going to throw strikes."
Cleveland was just trying to get something -- anything -- going on offense.
"To be honest," Francona said, "when you get to that point in the game, you're trying to score. We didn't get him out of there, so at that point it's not as crucial [to drive the pitch count up]. You're just trying to get hits. But he did have some quick innings."
The Indians looked to have something going when the Mariners handed the ball to lefty reliever Charlie Furbush in the eighth.
Furbush got off to a rough start with an errant pitch that hit leadoff man Michael Bourn, who is always a threat to steal a base. The reliever recovered by striking out Swisher with a close 1-2 pitch ruled to have caught the outside corner. Bourn was then caught stealing easily at second base on a pickoff play by Furbush, who then retired Jason Kipnis with a groundout.
Bourn shouldered the blame for that breakdown.
"I messed up," he said. "I felt like I thought I had [Furbush] read right. I didn't. He guessed right on me and was able to pick me off. We missed some opportunities early in the game. These games, from here on out, they count. Ain't no way around it. Sometimes you're going to make mistakes, but we've got to be able to press for nine innings.
"That's the way the second half is played. That's how good teams get into the playoffs. They play the game within the game and every inning counts."
Jordan Bastian is a reporter for MLB.com. Read his blog, Major League Bastian, and follow him on Twitter @MLBastian. This story was not subject to the approval of Major League Baseball or its clubs.