Harang deals as Mariners win seventh straight
Harang deals as Mariners win seventh straight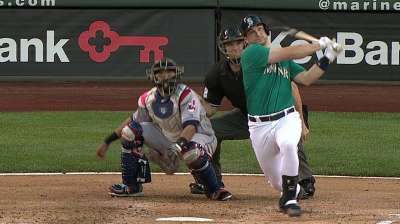 SEATTLE -- The Mariners didn't pile on the runs like they've become accustomed to in July, but solo home runs from Kendrys Morales and Mike Zunino were enough to back a stellar outing from starter Aaron Harang as Seattle beat Cleveland, 2-1, on Monday night at Safeco Field to extend its winning streak to seven games.
Seattle was without manager Eric Wedge, who was taken to the hospital as a precaution after he experienced dizziness during batting practice. Bench coach Robby Thompson managed in his absence.
"Right now they're doing a series of tests and obviously he's going to stay overnight," Thompson said. "Hopefully we'll know more in the morning once all those results get in. But he's resting and feeling fine right now, feeling a lot better so like I said we're just waiting for a series of tests to come in."
It was a cathartic victory for the Mariners (47-52), who can trace many of their issues this season to a four-game sweep by Cleveland at Progressive Field in May. In that series, Seattle was the victim of three walk-offs, and it sent the Mariners, who began that series a game below .500, on an eight-game losing streak.
Cleveland (52-47) took a 1-0 lead early in the series opener when Nick Swisher smacked a home run off Harang in the first. It was Swisher's first at-bat of the season as the No. 2 hitter in the Indian's lineup.
"He got us to roll over a number of times. We had a couple opportunities," Cleveland manager Terry Francona said. "He threw [Jason] Kipnis a high fastball and got it by him. He just basically pitches. He went up. He went down. He went in and out enough. He just kept us from doing a whole heck of a lot."
Harang recovered to allow only three more hits and a single walk in seven innings of work. The 35-year-old pitched on 11 days' rest, having been shelled for seven runs in five innings against Boston his last time out.
"We try to use their aggression against them, we got a lot of first-pitch outs, one or two pitch outs and just try to keep them off balance," Zunino said. "Mix our pitches in their spots and he did a great job of that tonight."
As good as the Mariners bats have been -- they entered Monday's game with an Major League-leading 6.4 runs per game in July -- the starting rotation has been almost as good. Seattle's starters have recorded the victory in each game of the seven-game streak, allowing just nine earned runs in that span.
"We go out there, you kind of want to match what the guy did the night before and that's how you get on good streaks," Harang said. "It's just that competitiveness in the clubhouse, but we're all still going out there trying to help our team win. All around the guys have been swinging well, the defense has been playing well and the pitching's been there."
The Mariners didn't respond until the fourth inning, when Morales hit his 15th home run of the year, a solo shot to right field to knot the score. The designated hitter's knock ended a streak of 88 consecutive innings without a home run allowed by Cleveland's pitchers.
Morales is now tied with Raul Ibanez for the team lead with 56 RBIs. Since June 26, Morales has been hitting .309 with six home runs, four doubles, 15 RBIs and seven walks.
Charlie Furbush pitched the eighth, allowing a single to Michael Bourn, but getting him out on a pickoff play to face the minimum against the first third of the Indians' lineup.
Cleveland entered Monday's contest with a 12-2 record against the American League West, the best in the Majors.
Seattle took a 2-1 lead on Zunino's home run in the fifth. The rookie catcher has been getting incrementally better at the plate, adding a double on Monday to finish 2-for-3. On Friday, Zunino recorded career highs in walks and runs scored with three of each.
With Morales and Zunino's blasts, Seattle moved past Toronto to 2nd in the Majors with 122 home runs, trailing only Baltimore's 135. The Mariners have homered in 25 of their past 26 games.
Closer Tom Wilhelmsen allowed runners on the corners in the ninth before picking up his 22nd save of the season.
Jacob Thorpe is an associate reporter for MLB.com. This story was not subject to the approval of Major League Baseball or its clubs.