Marlins end shutout skid, reward Koehler
Marlins end shutout skid, reward Koehler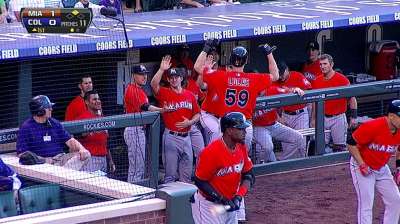 DENVER -- The combination of struggling young Rockies starter Drew Pomeranz and the thin Denver air proved the perfect recipe to end the Marlins' historic offensive woes. Miami scored two first-inning runs on its way to a 3-1 win over Colorado at Coors Field on Monday night.
Blanked in three consecutive games in Milwaukee and entering the series opener without a run in 37 innings -- a franchise record -- Giancarlo Stanton doubled to deep right-center to score the Marlins' first run since July 14. Marcell Ozuna followed with a single, Miami's third hit of the night and nearly enough to match its four-hit effort in a 13-inning marathon loss to the Brewers the previous night.
With that, everyone in the dugout exhaled a collective sigh of relief.
"We've done a pretty good job of sticking together, I think, and keeping a positive attitude about this last series," said Ed Lucas, making just his seventh start at first base. "But you could just sense the kind of relief in the dugout when we put a couple up there early. A lot of chatter, a lot of chirping, a lot more energy in the dugout."
Placido Polanco's sacrifice fly scored Stanton, the Marlins' offense suddenly revived, responsible for the 2-0 lead. Finishing 0-for-16 with runners in scoring position over the three-game stretch in Milwaukee, the Marlins closed the first inning 2-for-3.
"I think it was important for us to do it early today, to really just get that monkey off our back," Lucas said. "Kind of go back to our game and not so much almost playing for one run, but play to win the game."
The victory in the first of a four-game set snapped Miami's four-game losing streak and was its first win of the second half. The Marlins will put All-Star Jose Fernandez on the rubber Tuesday.
"Any time you've gone as many innings as we have without scoring, everybody's feeling the pressure, especially the guys who are out there grinding out their at-bats," manager Mike Redmond said. "It was nice to see guys have a much better offensive approach."
Marlins starter Tom Koehler, facing the Rockies for the first time in his career, didn't let those precious runs go to waste. He surrendered just one run over seven innings and struck out seven without walking a single batter.
Koehler nabbed a spot in the second-half rotation after a brief stint with Triple-A New Orleans, and he pitched like a man ready to stay in the Marlins' rotation. It marked the 19th time since June 16 that a Miami starter has allowed two runs or fewer, only Monday night it came with a refreshing twist -- the offense came to the pitcher's aid.
While it was Koehler's first time pitching at Coors Field, his time in the Minor Leagues served him well in the Mile High City. Pinpoint control on his fastball and breaking pitches allowed him to silence a dangerous Rockies lineup.
"Fortunately enough, I spent some time in the [Triple-A Pacific Coast League] where I got to play at some higher altitude parks," he said. "But still, you can't really prepare for it if you don't play there every day. ... Really, just all it is about is setting your sights a little bit lower than where you would normally throw them."
The first inning foreshadowed another trying start for Pomeranz. Lucas, the benefactor of a 2-0 count against a pitcher who continues to struggle with his command, curled a 90-mph, belt-high fastball inside the left-field foul poll to put the Marlins up 3-0 in the third.
Pomeranz walked the next two batters, and his night was over after 4 1/3 innings, allowing five hits and three runs while walking four.
Koehler did allow eight hits, but six were singles, lowering the risk of any serious damage. The right-hander's only costly mistake came on a 3-0 offering to Rockies shortstop Troy Tulowitzki, who blasted the Koehler fastball over the center-field wall for Colorado's only run.
Koehler ran into trouble when Michael Cuddyer followed with a double, but a Todd Helton strikeout set the stage for three quick outs. Ozuna -- who was optioned to Double-A after Monday night's win -- also made a diving grab in center field that may have prevented Tulowitzki from scoring from first in the sixth.
The bullpen picked up where Koehler left off, Chad Qualls tossing a scoreless eighth and Steve Cishek closing the ninth for his 18th save.
Their offense awakened from its slumber, the Marlins will look for another boost Tuesday when Jake Marisnick and Christian Yelich -- the organization's top two prospects -- make their Major League debuts.
"I know coming in here everybody's thinking, 'Oh, the Marlins are in town,'" Tulowitzki said. "But we had a meeting before [the usual start-of-series meeting] and said these guys have good arms, some quality arms. If they put together some good swings, they can be a tough team."
Ian McCue is an associate reporter for MLB.com. This story was not subject to the approval of Major League Baseball or its clubs.