Wilson works out in front of Righetti
Wilson works out in front of Righetti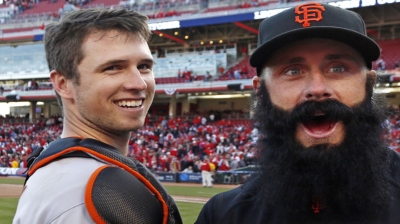 SAN FRANCISCO -- Hoping to latch on soon with a Major League ballclub, former Giants closer Brian Wilson threw Monday at the University of San Francisco before his ex-pitching coach, Dave Righetti, according to multiple reports.
Not only was Righetti present, but Giants bullpen catcher Bill Hayes also was said to have caught the bearded right-hander.
Wilson, a free agent who underwent Tommy John elbow surgery in April 2012, has been said for weeks to be progressing toward a throwing session for multiple teams, perhaps as soon as this week.
Giants vice president and assistant general manager Bobby Evans confirmed that San Francisco remains interested in Wilson, a three-time All-Star who ranks third in franchise history with 171 saves.
"We've maintained contact and asked to be included in the process if he decides to sign," Evans said, noting that the Giants are responsible for Wilson's rehabilitation until he signs with a different organization.
Chris Haft is a reporter for MLB.com. This story was not subject to the approval of Major League Baseball or its clubs.