Step forward for Nova, step back for Yanks
Step forward for Nova, step back for Yanks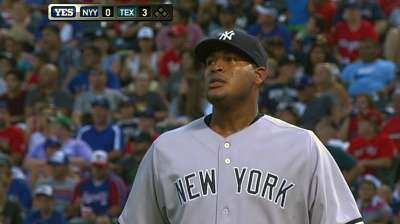 ARLINGTON -- It is not exactly a well-kept secret that this Yankees roster was not constructed to slug like their lineups of old, but now it may not just be the extra-base hits that are in short supply.
Perhaps fatigued after a late-night battle with the Red Sox at Fenway Park, the Yankees were limited to just three singles in a sleepy effort against Yu Darvish and three relievers on Monday, accepting a 3-0 loss to the Rangers at Rangers Ballpark.
"It is tough, but you can't sit there and feel sorry for yourself, because no one else is," said Lyle Overbay, who had both of New York's hits off Darvish. "They're going to come out and pound you if you don't. It's something we have to deal with, and we've got to find a way to come out and do that."
Darvish kept the Yankees out of the hit column into the fifth inning, when Overbay lifted a soft flare that found grass in shallow left field. Overbay also rapped a seventh-inning single and Ichiro Suzuki had a ninth-inning hit off closer Joe Nathan to account for New York's offense.
The Yankees have not had an extra-base hit since Eduardo Nunez's seventh-inning double in Saturday's 5-2 win at Boston, but despite that pronounced lack of thump, manager Joe Girardi said he believes his players' effort has been solid.
"There's only two things you can control in life -- your preparation and effort. I'm getting that," Girardi said. "I'm not going to get down on these guys, because I get that [effort] every day. Tomorrow is a new day. This group has been pretty resilient all year."
Girardi pointed to a gritty third-inning catch by infielder Luis Cruz that stole a hit away from Mitch Moreland, as well as Brett Gardner's hard-fought 14-pitch at-bat in the ninth inning against Nathan, as evidence of that.
Still, the punchless showing wasted a solid effort from Yankees starter Ivan Nova. The right-hander allowed three runs over seven innings to log his third consecutive quality start, but he was dissatisfied with his outing afterward.
"I don't really like it. Even though [it was] only three runs, I didn't throw enough strikes," said Nova, who threw 62 of 112 pitches for strikes. "I couldn't command my curveball really good today. My fastball was off. I don't have a feeling for my changeup. I don't really like it."
As it turned out, the Rangers pushed the only run they would need across the plate in the first inning. Ian Kinsler walked, stole second base and scored as Adrian Beltre sliced a run-scoring single into center field.
"Once I knew it was Darvish, the first thing in my mind was, 'You've got to keep your team close,'" Nova said. "We're not hitting well lately, and he's a tremendous pitcher."
Nova settled in to blank the Rangers into the sixth, when he left a pitch up waist high to light-hitting catcher Geovany Soto, who blasted it up the alley in right-center field to drive home Elvis Andrus.
Nelson Cruz hit his 23rd homer of the season in the seventh, accounting for the production against Nova, who permitted seven hits while walking three and striking out four.
"I thought he threw OK," Girardi said. "I didn't think he had his great stuff today, but I thought he competed well and he gave us a chance to win, obviously. He kept us in the game. I thought he did OK."
Since baserunners were in such short supply, a three-run deficit felt like far more against relievers Robbie Ross, Tanner Scheppers and Nathan, coming in succession after Darvish shut the Yankees down.
"I was able to locate my fastball for strikes," said Darvish, who reclaimed the Major League strikeout lead with four punchouts to run his season total to 161. "Even early in the count, I was able to throw all my pitches. I think it went smoothly overall."
It did go smoothly, a bit too much so for the tastes of team captain Derek Jeter, who has been unwillingly reduced to little more than a cheerleader this season because of injuries.
From Jeter's vantage point on the bench, though, it is obvious the Yankees need to find answers quickly to help out their hurlers.
"It's tough," Jeter said. "We put way too much pressure on our pitching staff. It's hard to pitch like that when we aren't scoring runs for them. You feel as though you've got to be perfect. I'm not a pitcher, but I can only assume.
"I've been in situations where you feel like you've got to score 10 runs. It puts a lot of pressure on your offense. Right now, there's too much pressure on our pitching staff. We've got to find a way to score runs. That's the bottom line. There's no way to sugarcoat it. We just haven't been very good lately."
Bryan Hoch is a reporter for MLB.com. Follow him on Twitter @bryanhoch and read his MLBlog, Bombers Beat. This story was not subject to the approval of Major League Baseball or its clubs.