Padres post four-run sixth inning to top Brewers
Padres post four-run sixth inning to top Brewers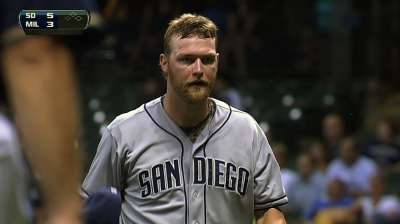 MILWAUKEE -- It took Padres pitcher Andrew Cashner 35 pitches to get three outs in the first inning on Monday night at Miller Park.
It only took him five more innings to finally forgive himself for it.
That Cashner was still pitching -- and pitching well -- in the sixth inning was of paramount importance to himself and the Padres, who shook off a slow start for a 5-3 victory over the Brewers in front of a crowd of 30,348.
"I was just wild. I felt like my timing was off," Cashner said of the first inning when he allowed a pair of RBI doubles to Jean Segura and Jonathan Lucroy.
Cashner, who allowed five baserunners and two runs in that first inning, improved almost immediately, as he allowed just one more hit over his final five innings.
Better still, Cashner (6-5) was still going strong at the end of his 104-pitch performance. In fact, one of his best pitches of the night might have come on pitch No. 103, a filthy slider that he got Rickie Weeks to swing and miss on for the second out of the sixth inning.
"I thought Cash, after a high pitch-count first, was the key to the game," said Padres manager Bud Black. "The game could have gotten squirrely there.
"[The slider is] a pitch he's been working on. I think he got four strikeouts on sliders. To bring that into his arsenal will help him in the second half."
All told, Cashner allowed three runs on three hits with three walks and six strikeouts in six innings. Not a bad start to the second half for a pitcher going on 12 days' rest. The slider, he said, played a determining role in his success Monday.
"It was a big pitch for me tonight," Cashner said. "The biggest thing is just to have confidence in the pitch."
The victory was the sixth for the Padres in their last 26 games.
Like Cashner, the Padres (44-56) had their own slow start to contend with, mostly because of the strong first five innings by Tom Gorzelanny (1-4), who allowed one run on one hit through five.
Trailing 3-1, the Padres chased Gorzelanny from the game after a pair of two-run doubles, the first from Carlos Quentin and then another by Jesus Guzman. Guzman knocked in three runs in the game, the first coming on a solo home run in the second inning.
"I thought his stuff was better than what I saw on video," said Padres third baseman Chase Headley of Gorzelanny. "He was a lot more crisp than I thought and kept the ball down. He had thrown a good game to that point."
That four-run inning might have been the result of two big swings by the Padres, though it was two little ones that set the stage for the big frame. Cashner started the inning with a push bunt up the first-base line and then Everth Cabrera, looking to advance the runner, reached on a bunt single as well.
The bunt by Cashner -- complete with a feet-first, pop-up slide -- caused his manager to chuckle after the game.
"I don't know what happened with that," Cashner said, smiling.
Cashner is no slouch with the bat. His hit Monday was his eighth of the season in 28 at-bats. Four of the eight hits have come on bunts.
"That's a weapon for him," Headley said. "I was joking with him about being careful hitting and running the bases since his main job is to pitch."
The bunts by Cashner and Cabrera got the wheels turning for a big inning, and the Padres are now 2-2 on this 10-game road trip.
"The bunts changed the ballgame," Brewers manager Ron Roenicke said. "We should've made a play on the first bunt, the ball that Cashner bunted down the first-base line. We were tentative going for it. Gorzelanny was tentative and I think [first baseman Juan] Francisco was tentative going for it. That's a bunt that opened up the inning. I think if we get that out there, Cabrera probably doesn't follow with another bunt and then we get him out. So that changed the ballgame."
Black quipped about the small-ball tactics afterwards.
"We went to the small-ground attack," Black said.
Gorzelanny didn't survive the inning. He allowed five runs on five hits with three walks and six strikeouts in 5 2/3 innings.
Corey Brock is a reporter for MLB.com. Keep track of @FollowThePadres on Twitter. This story was not subject to the approval of Major League Baseball or its clubs.