After news of Braun suspension, Crew falls to Padres
After news of Braun suspension, Crew falls to Padres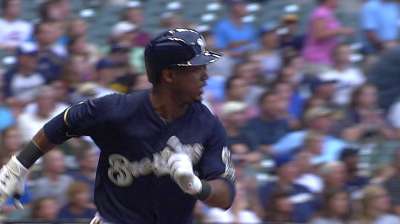 MILWAUKEE -- The 30,348 fans at Miller Park on Monday night needed a pick-me-up, and the Brewers couldn't deliver.
After losing left fielder Ryan Braun for the remainder of the season to suspension, the Brewers lost a game to the Padres, 5-3, when San Diego struck for four runs in the sixth inning.
The loss snapped Milwaukee's four-game winning streak.
Jean Segura and Jonathan Lucroy delivered RBI doubles in the first inning for a lead that stood into the decisive sixth, when the Padres sent nine men to the plate and scored four runs on four hits to erase a 3-1 deficit. The outburst began with back-to-back bunt hits from Padres starter Andrew Cashner and shortstop Everth Cabrera.
"The bunts changed the ballgame," Brewers manager Ron Roenicke said. "We should've made a play on the first bunt, the ball that Cashner bunted down the first-base line. We were tentative going for it, [Brewers starter Tom] Gorzelanny was tentative and I think [first baseman Juan] Francisco was tentative going for it. That's a bunt that opened up the inning. I think if we get that out there, Cabrera probably doesn't follow with another bunt and then we get him out. So that changed the ballgame."
Gorzelanny surrendered a Jesus Guzman home run in the second inning to snap at 36 innings the club-record scoreless streak for Milwaukee pitchers. Gorzelanny walked the next batter but then retired 10 in a row through the end of the fifth, with the Brewers extending their lead to 3-1 on Segura's groundout in the bottom of that inning.
But Cashner got the Padres going when he pushed a bunt single to the right side of the infield leading off the sixth. Cabrera followed with another bunt single to the left side, and both runners advanced on a groundout before Gorzelanny walked Chase Headley to load the bases for Carlos Quentin, who delivered a game-tying two-run double to center field.
Gorzelanny struck out Jedd Gyorko to move within one out of escaping with a 3-3 tie intact, but Guzman ripped a low fastball into the left-field corner for another double and two more runs.
When Gorzelanny followed by walking Logan Forsythe, his day was done. The left-hander was charged with a season-high five runs on five hits and three walks in 5 2/3 innings.
He had allowed only one total earned run in his three previous starts, and had not allowed more than three runs in any of his relief outings this season.
"I think that having those two [bunts] happen, it shouldn't have turned out as bad as it did," Gorzelanny said. "The inning got extended a little bit and I threw a bunch of pitches. I hate to say, I got a little tired toward the end. It's one of those things you've got to battle through and just make pitches. It didn't end the way I started. It was a tough one to swallow."
Said Headley of Gorzelanny: "I thought his stuff was better than what I saw on video. He was a lot more crisp than I thought and kept the ball down. He had thrown a good game to that point."
Cashner, who won for the first time since June 11, limited the damage to three runs on three hits in six innings, with three walks and six strikeouts. After the back-to-back doubles by Segura and Lucroy in the first inning, the Brewers were limited to two hits -- both from Norichika Aoki.
Roenicke did not think the pregame news of Braun's suspension carried over to his team's play.
"I thought we came out great. We came out really good the first inning," Roenicke said. "We get a big hit that first inning, we have a real nice big inning. Instead of just two points there, we get a bunch. And then we don't do much the rest of the game.
"I think it's important for us, now that it has happened, to move forward with this season. We know Ryan is not going to be with us the rest of the year. Now that this thing is over with, as far as the decision on what's going to happen, we have to deal with now the rest of the season trying to win ballgames, and that's really where our focus is and that's where my focus is going to be."
Adam McCalvy is a reporter for MLB.com. Read his blog, Brew Beat, and follow him on Twitter at @AdamMcCalvy. Kevin Massoth is an associate reporter for MLB.com. This story was not subject to the approval of Major League Baseball or its clubs.