Gutierrez, Morse hit rehab assignments
Gutierrez, Morse hit rehab assignments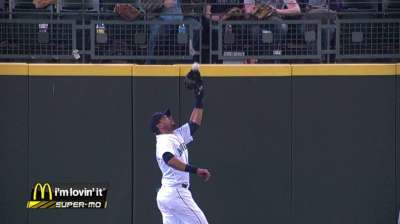 SEATTLE -- The Mariners' hot stretch of play over the past month has been all the more surprising given that the team has been without two of its better hitters, outfielders Michael Morse and Franklin Gutierrez, who have been injured for much of the season. Seattle, which leads the Majors with an average of 6.4 runs per game scored in July entering Monday's game, may receive a boost to the lineup soon as those two players prepare for rehab starts in Triple-A.
Morse made a rehab start Monday night as the designated hitter for Tacoma, and will gradually see more use in the field. He hasn't played since being placed on the disabled list with a strained right quad on June 22, retroactive to June 21.
"We worked him out pretty good in the outfield and on the basepaths today, he looked really good," manager Eric Wedge said before Monday's game. "He'll play right field tomorrow for five innings."
The slugger was hitting .254 with 11 home runs through the first two months of the season, but struggled in June because of his lingering injury.
Gutierrez has often struggled with injury, missing at least 50 games in each of the last three seasons. After going on the disabled list on April 22, Gutierrez returned on June 22 to hit a home run and a double in Seattle's 7-5 win over Oakland. He left the next game in the seventh inning after running into the wall, and hasn't played since.
The center fielder will make his first rehab start for Tacoma on Tuesday as the designated hitter. When healthy, Gutierrez is regarded as one of the best defensive center fielders in the Majors and an able hitter. In his 18 games with Seattle this season, the 30-year old is hitting .267 with an .874 OPS.
Jacob Thorpe is an associate reporter for MLB.com. This story was not subject to the approval of Major League Baseball or its clubs.