Thomas dazzles with bat, glove to top Angels
Thomas dazzles with bat, glove to top Angels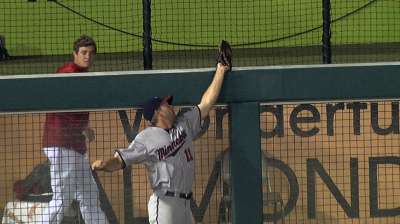 ANAHEIM -- It was easily the most nail-biting game for the Twins all season.
And they wouldn't have been able to do it without the help of Clete Thomas, who homered, drove in two runs and made game-saving catch in the eighth inning to lead the Twins to a 4-3 win over the Angels on Monday night at Angel Stadium.
Thomas' homer in the fourth was key, but it was his leaping catch at the wall to rob Chris Iannetta of a three-run homer to end the eighth that was the biggest play of game. The Twins were able to cling to the victory with closer Glen Perkins picking up his first four-out save of the year, stranding two runners in the ninth by striking out Albert Pujols and Howie Kendrick to end the game.
"It was crazy," Thomas said. "I was kicking myself for not getting a run in the [eighth], but then I go out and kind of save the game -- robbing a home run. It was awesome. And then the last inning, they had a couple runners on and the adrenaline was going, and we did everything we could and Perkins just did a great job."
Perkins was brought into an unusual circumstance in the eighth, as he was called on to pick up a rare four-out save with runners on the corners and two outs. The Angels went with pinch-hitter Collin Cowgill, who was able to bring home a run with a single to left, cutting Minnesota's lead to just one.
Iannetta then came in to pinch-hit and blasted a ball to deep left field that was caught by a leaping Thomas at the wall.
"I knew I had a chance," Thomas said. "As long as I had room, I had it the whole way, so it was whether I'd have room or not. It saved the game at the moment."
There was more drama in the ninth, as J.B. Shuck singled with one out before Mike Trout reached on a bloop single just past second baseman Brian Dozier in shallow left field. But Perkins was able to reach back and strike out Pujols and Kendrick to end the game.
"Perkins is our best pitcher," Twins manager Ron Gardenhire said. "He got it done."
It preserved a win for Samuel Deduno, who gave up two runs on just four hits and five walks over seven innings to pick up his sixth victory of the year. The right-hander registered his seventh quality start in 11 outings, and lowered his ERA to 3.50 in the process.
"The first three innings, I was too passive, so I need to be more aggressive," Deduno said. "In the fifth, sixth and seventh innings I was very strong."
He struggled with his control in the first inning, walking the first two hitters he faced, before giving up a sacrifice fly to Kendrick to put the Twins in an early hole.
But the Twins roughed up Angels right-hander Joe Blanton, who lasted just 3 2/3 innings, surrendering four runs on nine hits and two walks.
Minnesota got on the board in the second on an RBI double from Thomas with two outs. He brought home Chris Colabello, who scored his first career run in the Majors in 10 games.
Thomas then promptly scored on an RBI double from Aaron Hicks on a ball that dropped just out of the reach of Shuck in left to give the Twins the lead.
"I felt like I threw a lot of good balls tonight. Some fell in," said Blanton. "Made a couple mistakes that they hit and a lot of those borderline pitches tonight that weren't going my way and that was the game."
But the Angels tied it in the third on an RBI single from Trout, who extended his hit streak to 14 games.
The Twins took the lead for good in the fourth with two runs against Blanton. Thomas started it off with a solo blast -- his fourth homer of the year -- before Hicks singled and stole second. Hicks, though, was thrown out at home by Shuck on a single to left from Dozier, who came around to score on an RBI double from Doug Bernier. It marked the first career hit for Bernier, who last appeared in the Majors in 2008 and has played more than 1,000 games in the Minors.
"It was fun to see a young kid at 33 years old play the way he did at shortstop and get a big base [hit] for us," Gardenhire said.
Deduno pitched his way out of trouble in the seventh, giving up a leadoff triple to Hank Conger but stranding him, as he retired Erick Aybar, Shuck and Trout in order to get out of the jam.
It was just the start of three drama-filled innings for the Twins, who were able to hold on to pick up their fifth win over their last six games.
"It was an exciting baseball game," Gardenhire said. "It was a nice win for us and a great start to start our road trip."
Rhett Bollinger is a reporter for MLB.com. Read his blog, Bollinger Beat, and follow him on Twitter @RhettBollinger. This story was not subject to the approval of Major League Baseball or its clubs.