Johnson, defense crumble under Dodgers' onslaught
Johnson, defense crumble under Dodgers' onslaught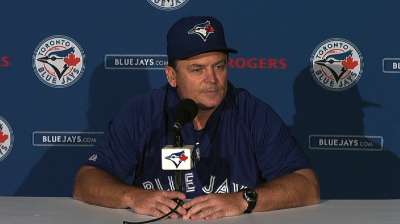 TORONTO -- Since the Blue Jays returned from the All-Star break, it's safe to say things haven't gone the way they hoped they would. Monday's game vs. the Dodgers was no different.
Toronto was in desperate need of a strong second-half push, but has come out of the break with a whimper.
The Blue Jays' post-break slide reached four games on Monday after losing, 14-5, in front of 34,515 at Rogers Centre, in a game that was never in doubt.
"I can't say it right here, [but] it wasn't a good game," said Blue Jays manager John Gibbons when asked to describe the game. "We got whipped all the way around. Pitching, starting, Josh -- they took it to him -- and even our bullpen tonight, everybody gave a little bit up. We were sloppy defensively. It was just a bad game, it really was."
Toronto starter Josh Johnson began the night on a promising note, retiring the first four batters he faced, including two strikeouts, but then quickly fell apart in a hurry. The towering right-hander would allow 10 of next 12 batters to reach base as the Dodgers took a quick five-run lead before the third inning came to a close.
The big blow came from A.J. Ellis, who hit a two-run home run on a 3-1 fastball into the seats in right-center field.
"That was pitiful, it's the only way I can put it," Johnson said of his outing. "I didn't even battle them, everything was right in the middle of the plate, so nothing I can do but take it. That's a pretty poor performance."
"The ball was in the middle of the plate and it's pretty easy to see why they hit the ball all over the place."
In total, Johnson allowed five earned runs on seven hits and a walk, with two strikeouts in two-plus innings of work. He has now allowed 12 earned runs in his last eight innings on the mound, and the pending free agent has shown very little of the promise that was expected of him coming into the season.
"Really inconsistent," said Johnson. "One day everything will be really good and then all of a sudden the next day it's back to square one, and that's kind of how it has been."
Dodgers first baseman Adrian Gonzalez echoed those sentiments, as Monday's game was a microcosm of the Blue Jays starter's year.
"First at-bat he looked pretty good," Gonzalez said. "I don't know if they were changeups or two-seamers, but they had pretty good bite. It looked like he had his stuff going, and then after the home run he kind of lost it and gave up those extra runs. The next inning, his pitches were getting away from him."
With the decision Johnson lowered his record to 1-6 on the season, with his lone victory coming just shy of a month ago against Baltimore on June 23.
"Not this bad," said Johnson when asked if he's been in a stretch like this before. "I mean, this is terrible. I don't even know how to explain it, it's really bad."
Despite leaving the game with an ugly five-run deficit, the lopsided affair turned for the worse after his departure.
Toronto made errors in four consecutive innings, finishing one shy of the club record with five on the night, as the Dodgers easily tacked on an additional nine runs, including three on Skip Schumaker's first home run of the season.
"I wouldn't say it's a lack of focus. I wouldn't say it's a lack of effort," Mark DeRosa said of his club's tough night in the field. "I'd just say for whatever reason it has not gone our way and it's very frustrating."
Until the sixth, however, the game was seemingly still in reach for the Blue Jays. Toronto knocked in a pair of runs with singles from Melky Cabrera and DeRosa in the third, as the club trailed by no more than four until the Dodgers' four-run sixth.
With the loss, the Blue Jays have now lost five straight, and have gone 7-17 since their Major League-high 11-game winning streak ended.
"It's just been one of those situations that if our bullpen is good, our starting pitching is off, if our defense is off, our hitting is on. You know, it's just been one of those things," said DeRosa, who had three hits on the night. "Other than that 11 game streak it hasn't all gelled for whatever reason. And we sit here in late July and we're still searching for those answers."
"I think it's got to be [the low point]. Coming out of the break, knowing we have to play well. It's not easy; the Rays were as hot as any team in baseball. From the looks of it L.A. is going to be in it until the end. They're as talented group as we've played all year. J.J. didn't have it. It starts with the starting pitching. Our bullpen has been used a lot. You can't expect those guys to throw up zeroes every night. Got to wash it away and come back tomorrow. I know it's getting old to say that, but we don't have any other option."
Evan Peaslee is an associate reporter for MLB.com. Follow him on Twitter at @EvanPeaslee. This story was not subject to the approval of Major League Baseball or its clubs.