Davis exits early in series opener against O's
Davis exits early in series opener against O's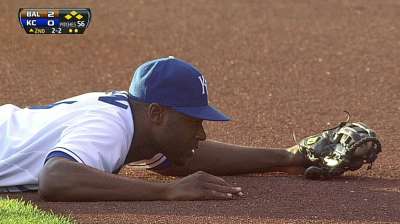 KANSAS CITY -- There have not been many losses like this for the 2013 Royals.
This, after all, is a team that has split 34 one-run decisions this season. Close games, win or lose, have been predominant. The 9-2 loss they absorbed from the Baltimore Orioles on Monday night was just the ninth time they lost by five or more runs.
"It was a clunker, man," Royals manager Ned Yost said. "It was one of those games."
One of those games in which starting pitcher Wade Davis was badly off-target and lasted just 2 2/3 innings. In which a crucial miscue ended the team's record-tying streak of 11 errorless games. In which their opponents hammered out a season-high 18 hits. In which Orioles starter Scott Feldman held them to five hits in eight innings. In which the last 13 batters the Royals sent to the plate went out with barely a whimper.
"Anything we could screw up, we screwed up tonight," Yost said. "So it was one of those games. Let's get it out of our system -- go get 'em again tomorrow."
The Orioles, who won their fifth straight game and eight of their last nine, will be back Tuesday night and two nights after that. After the All-Star break, they went to Texas and swept a three-game series.
"We are doing things that are giving us a chance to win," Orioles manager Buck Showalter said. "We talked about the things we did in Texas today in the advance meeting that allowed us to be successful there in a tough place. Just like this."
But Kauffman Stadium, where 16,362 fans turned out on a 90-degree evening, turned out to be an easy place for the O's right from the get-go.
By the time Davis departed in the third inning, he had thrown 83 pitches, including 50 strikes.
"I fell behind too much; that leadoff walk to start that first inning was a bad way to start it, and that led to a lot of pitches," Davis said.
After Nate McLouth's game-opening walk, Manny Machado's bouncer went right past third baseman Mike Moustakas for an error and led to a two-run inning.
"I just missed it," Moustakas said. "Wade made his pitch, Manny hit it on the ground to me and it's a 5-4-3 double play any day of the week, and I just didn't catch it. It was about as routine as it gets, and I just didn't make the play."
The Orioles loaded the bases with no outs in the second inning, but Davis escaped unscathed with two strikeouts and the Royals' highlight of the night -- a spectacular catch by center fielder Lorenzo Cain. He tracked down Adam Jones' drive in right center and dived to make the inning-ending catch.
"I made a play for Wade with the bases loaded; I was trying to get back there and be a playmaker, and I was able to make a good play," Cain said. "It was huge at the time to keep the score 2-0, but we couldn't get the bats going at the end of the night."
Davis appreciated the help.
"It was a great catch, a huge play right there to keep the game where it was," he said.
But it did not stay that way for long. The Orioles added two runs in the third and pushed Davis out of the game, yielding to former starter Luis Mendoza. The Orioles added five runs against Mendoza in his 3 1/3 innings.
That included a four-run sixth against Mendoza, with Chris Davis delivering a two-run double and J.J. Hardy a two-run homer, his 17th blast this season. That was the only homer for the Orioles, who lead the Majors with 135.
For Wade Davis, it was his fourth straight loss. He has won just once in his last 11 starts, and his ERA has edged close to the 6.00 mark.
"He hasn't pitched in 11 days -- Mendy hasn't pitched in 14 -- and so there is some rustiness there because of the All-Star break," Yost said.
Yost did not want to discuss Davis' status in the starting rotation, but he knew what the primary problem seemed to be.
"Struggling with command to begin with," Yost said. "Defense helped him out. Lorenzo Cain made a phenomenal play in center field. And the defense hurt. I think Moose must have taken his eye off the ball, and it was a double-play ball, which resulted in two runs in the first. But he was just erratic in command."
Feldman, on the other hand, breezed through his eight innings with only 107 pitches. He is 2-1 in four starts since being acquired from the Chicago Cubs.
The Royals scored two runs off Feldman early. David Lough singled to start the third inning, advanced on Miguel Tejada's single and scored on Alcides Escobar's sacrifice fly. In the fourth, singles by Salvador Perez, Moustakas and Lough produced a run.
But that was it.
The Royals, who came out of the All-Star break on a high note with two wins over first-place Detroit, have now lost two straight. They fell eight games behind the Tigers. Bad night.
"It just wasn't a good game any way you look at it," Yost said.
Dick Kaegel is a reporter for MLB.com. This story was not subject to the approval of Major League Baseball or its clubs.