Sale on short end of duel with Scherzer
Sale on short end of duel with Scherzer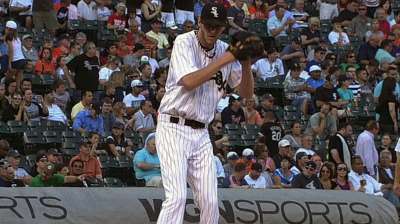 CHICAGO -- The intentional walk issued to Miguel Cabrera in the fifth inning of Detroit's 7-3 victory Monday night at U.S. Cellular Field was far from the most significant moment of the night for Chris Sale and the White Sox.
It certainly was the most talked about following the club's 11th loss in its last 15 games against the American League Central leaders, dating back to May 15, 2012.
Hernan Perez was on third base with two outs in a one-run game when the free pass was called. Prince Fielder, the following hitter, is no day at the beach either, but left-handers entered the game hitting .133 with one extra-base hit against Sale (6-9) this season, so the matchup seemed more favorable.
Sale didn't quite see it that way. He walked Fielder on four pitches to load the bases, followed by Victor Martinez's two-run single to center on a 1-2 slider that caught too much of the plate.
In between those two at-bats, White Sox pitching coach Don Cooper paid a mound visit to the still noticeably irritated young hurler and the two exchanged their respective thoughts. After Sale's seventh loss in his last eight decisions, despite a 3.13 ERA over that stretch, he admitted to being disappointed in the intentional walk to Cabrera.
"A little bit. I don't like giving people stuff. I like people to earn getting on base," Sale said. "But at the end of the day, that's [manager Robin Ventura's] call."
That disappointment over the Cabrera at-bat had nothing to do with the Fielder walk, according to Sale. As for Ventura's take on Sale's reaction, it was qualified understanding.
"He probably wants to pitch to [Cabrera], but that's my decision," Ventura said. "It's one of those that with a lefty on deck, really any lefty, I know Prince is a great hitter, Chris against a lefty, you're going to take that any time just to stay in the game.
"Chris does [have passion], but I'm the one making that call. He needs to have a little more composure and get that guy and not worry about what happened before."
Aside from this moment, it was business as usual for Sale, the 2013 White Sox offense behind Sale, the 2013 White Sox defense as a whole and Detroit starter Max Scherzer (14-1). Sale's 15th quality start of the season and 11 strikeouts over eight innings, pushing him to single-game double-digits in that category for the 11th time in his career, emerges as the only positive from the above list.
Entering his Monday night start, Sale had received an average of just 1.64 runs of support over his past seven outings. The White Sox (39-57) surpassed that total behind solo homers from Dayan Viciedo and Conor Gillaspie.
Scherzer didn't give up much more, having a perfect game broken up by Adam Dunn's leadoff single in the fifth. He struck out five and yielded just four hits over eight innings in a battle of the first two pitchers used by the American League during last week's All-Star Game victory.
"He's the same guy we've watched before only better. He's always had good stuff, but he's not missing now over the heart of the plate and not walking people," said Dunn of Scherzer. "When you're not missing and not walking people, that means you're doing well."
"When you face a great pitcher like Sale, the one common denominator is you've got to pitch really well against him or you're probably going to get beat," Detroit manager Jim Leyland said. "And that's what Scherzer did for us."
An assist to Scherzer came from miserable White Sox defense, which matched a season high with three errors, leading to five of the seven runs scored by the Tigers (54-44) being unearned.
"You just give them opportunities," Ventura said. "If you play better defense, you're probably in that game a little bit more."
Alexei Ramirez committed two errors, pushing him to 16 for the season. It was Ramirez's error on Perez's grounder leading off the fifth that started the two-run frame, which was the inning of Sale's discontent. Dunn, like his White Sox teammates, has nothing but respect for a good-natured, hard-working individual such as Sale, who basically has become the face of the franchise.
Then again, it's hard to argue walking Cabrera, who left in the bottom of the fifth with a sore left hip flexor, at any point of a contest.
"Again, I love Chris to death, but that's not really a call [to make]," Dunn said. "He can probably have an opinion on what he wants to do, but you have arguably one of the best players in the league for sure, but maybe all time right-handed. I know you have a tough matchup with Prince there, but I think I would take Chris against a lefty any day of the week.
"With that stuff [Sale has], I think I could get everybody out, too. I think that shows the kind of competitor he is. He gets to play once every five days. I'd take him against any righty, too. It didn't work out, but it's probably going to work out a lot more often than not work out, for sure."
Despite the arguments to the contrary, Sale wasn't moving from his competitive stance.
"Like I said, I like to make them earn their way on there," Sale said. "And that's about it."
"I think he's upset every time he gives up runs, so it's one of those," Ventura said. "I don't think it was any different than any other time."
Scott Merkin is a reporter for MLB.com. Read his blog, Merk's Works, and follow him on Twitter @scottmerkin. This story was not subject to the approval of Major League Baseball or its clubs.