Scherzer improves to 14-1; Miggy hurting
Scherzer improves to 14-1; Miggy hurting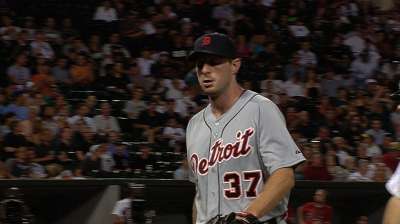 CHICAGO -- As the Tigers saw durability from their All-Star starting pitcher Monday night, they're hoping the same trait will bring their All-Star third baseman back without much delay.
Max Scherzer shined in his first outing since starting the All-Star Game, but the Tigers' 7-3 win against the White Sox was clouded in part by the early departure of reigning MVP Miguel Cabrera, who continues to experience a nagging left hip flexor.
It was only after the first hit that Scherzer allowed -- a fifth-inning Adam Dunn ground ball that got past Cabrera at third base -- that Cabrera came out of the game. The reigning MVP has been bothered by the issue that evidently hasn't had time to properly heal.
"He has some issues with that once in a while, and sometimes they can stretch him out and get him right back in there," manager Jim Leyland said.
But the skipper wouldn't commit to whether Cabrera would be available in the second game of the series on Tuesday.
"He had to come out of the game," Leyland said, "So that's usually not a good sign."
The slugger was intentionally walked as part of Detroit's two-run fifth inning, and scored gingerly on Victor Martinez's two-run single. He was seen speaking to head athletic trainer Kevin Rand in the dugout before returning to his position at third, where he looked uncomfortable for two at-bats before leaving the game. Cabrera, an eight-time All-Star, has played at least 150 games in each of his full seasons since he broke into the league in 2003.
"I felt something and I didn't want to keep hurting myself," Cabrera said. "I decided to come out, get treatment and try to be ready for tomorrow."
On any other night, Scherzer would have stood out as the most dominant storyline. He certainly dominated the White Sox most of the evening, as Detroit's division rivals mustered just two runs against him in eight innings. Both runs came on solo homers -- Dayan Viciedo in the sixth and Conor Gillaspie in the eighth.
Scherzer took a perfect game into the fifth before Dunn broke it up with the opposite-field single. White Sox starter Chris Sale, who followed Scherzer in the All-Star Game, struck out 11 Tigers over eight innings.
"When you face a great pitcher like Sale, the one common denominator is you've got to pitch really well against him or you're probably going to get beat," Leyland said. "And that's what Scherzer did for us."
Sale, too, knew he had little margin for error.
"You've got to be a little bit more focused with a team like this, with the talent they have over there and pitching against Scherzer," Sale said. "So you've got to have your A game, and it wasn't me."
Scherzer, now 14-1, leads the American League with a 2.21 road ERA and his 157 strikeouts trail only Yu Darvish (161) for the most in the AL. His five strikeouts Monday were his fewest in a start this year, but Scherzer needed just 105 pitches to work through eight frames.
"I attacked with first-pitch strikes all night. I was working ahead in the count, had four pitches going," Scherzer said. "I felt like that made me effective and allowed me to have some quick innings. I kept my pitch count down for the first part and that allowed me to stay in the game. No walks -- that's always a recipe for success."
Torii Hunter singled and scored to give the Tigers a 1-0 lead in the third, then homered in the seventh to extend the lead to 4-1. Detroit tacked on three more in the ninth thanks to some shoddy Chicago defense, before Bruce Rondon allowed the bullpen's first run of the second half with a ninth-inning balk.
Martinez went 4-for-5 with four singles and three RBIs. After his first four-hit game of the season, he owns the most hits in the AL during the month and is hitting .425 (31-for-73) in 18 July games.
"Victor is hot," Hunter said. "He's the hottest thing on the planet right now. And we like that."
Joey Nowak is a reporter for MLB.com. Follow him on Twitter at @joeynowak. This story was not subject to the approval of Major League Baseball or its clubs.