Cutch's two jacks carry Pirates past Nationals
Cutch's two jacks carry Pirates past Nationals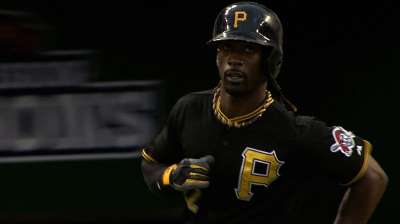 WASHINGTON -- Situational hitting is what you make of it, and the Pirates on Monday came up with a pretty good solution for a couple of thorns in their offense.
The Bucs still don't seem capable of hitting sacrifice flies, so Andrew McCutchen instead hit a couple of big flies. And that whole getting hits with men in scoring position still puzzles them, so McCutchen made sure that when he is in the batter's box, he is in scoring position.
Problem solved: McCutchen rocked a pair of early two-run homers off right-hander Dan Haren in support of Charlie Morton as the Bucs downed the Nationals, 6-5.
Of course, a bigger problem may have surfaced at the very end of the Bucs' 58th win, when All-Star closer Jason Grilli was forced out of the game by discomfort in his right forearm.
Grilli was two strikes shy of his 31st save when he had to make a quick retreat, and let Vin Mazzaro step in to retire pinch-hitter Steve Lombardozzi for the final out with the potential tying run at second base.
Pirates manager Clint Hurdle did his best to downplay the Grilli situation, at least until subsequent tests possibly provide some clarity on Tuesday.
With a distinct pall covering the clubhouse outside of his office 10 minutes after the end of he game, Hurdle was asked about his emotions.
"I'm happy we won the game," he said brightly. "I'm glad Andrew made it to the park on time. And it was another step forward for Charlie, a very good effort from him."
Morton worked through 102 pitches -- his highest since Sept. 20, 2011 -- to even his record at 2-2. He allowed only a solo homer to Adam LaRoche through his best six innings of the season, until Jayson Werth jumped on a lazy change from the tiring pitcher for the first of his pair of two-run homers, in the seventh.
Morton termed his outing "pretty good, up until the seventh, when I threw a change Werth got every bit of."
The right-hander got some satisfaction out of logging 93-plus pitches for the fourth time in five starts, the exception being his June 30 PNC Park outing that was shortened to two innings by a lengthy rain delay.
"But when you do get late in the game, especially if you're pitching well, you'd like to finish off the outing on a strong note," Morton said. "Giving up a two-run homer is not what I'd call 'strong.'"
McCutchen took care of most of the offense with his first multihomer game of the season, giving him four home runs in his last four games.
He followed a first-inning walk of Jordy Mercer with a drive into the right-center seats. In the third, with Starling Marte aboard after being hit by a pitch for the 17th time, McCutchen clouted his 14th over the wall just to the left of center.
The Bucs added single runs in the fourth, on Gaby Sanchez's RBI grounder, and in the eighth, when Pedro Alvarez scampered home on a wild pitch by reliever Drew Storen.
McCutchen is back in familiar territory. Oh, not Nationals Park -- although he is 18-for-35 in his last nine games here. But this isn't about "where," but about "when." The National League Player of the Month last July, for hitting .446, is at it again.
"Everybody has that place where they seem to hit better than in other places," McCutchen said. "Mine happens to be here. I've been swinging the bat pretty well as of late, and I felt pretty good when I got here."
The All-Star outfielder is 23-for-60 this month, with five home runs and 13 RBIs in 16 games.
Morton held the Nationals hitless through four innings by repeatedly hitting them below the belt, and much lower. With his sinker working to perfection, he got nine of his first 12 outs on grounders, the other three coming on strikeouts.
"Through the first four, five innings, his fastball was so alive," Hurdle said. "And he was more aggressive to the left side to left-handed hitters. His velocity was firm, and his sink was coming back over the inside half of the plate. It was basically one [bad] pitch."
The first time a Washington batter managed to lift a pitch, LaRoche got enough airtime for his 14th homer, leading off the fifth.
For the Nationals' next strike, Werth went down for one of Morton's lower pitches, golfing a ball about six inches off the ground deep into the seats in the seventh with LaRoche on base after having been nicked on the foot by a pitch.
Werth's third homer in two days trimmed Morton's lead to 5-3, and did keep him from being able to finish the inning. In 6 2/3 innings, Morton was charged with six hits and three runs, with one walk and five strikeouts.
Werth connected again in the ninth, off Grilli, who logged strikeouts of Ian Desmond and Wilson Ramos around that home run, giving no hint of the melodrama to follow.
"You hope for the best," Morton said, reiterating everyone's sentiments. "It's never good to see somebody in pain, let alone your All-Star closer. As a teammate, as a fellow person -- you don't want to see that."
Tom Singer is a reporter for MLB.com and writes an MLBlog Change for a Nickel. He can also be found on Twitter @Tom_Singer. This story was not subject to the approval of Major League Baseball or its clubs.