Bullpen falters, Astros remain winless vs. A's
Bullpen falters, Astros remain winless vs. A's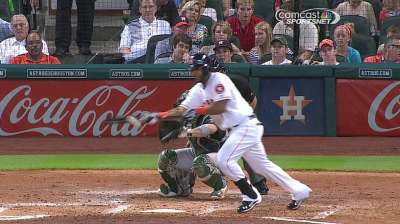 HOUSTON -- Perhaps the Astros are getting to the point they need to break out a voodoo doll or the Ouija board when the face the A's. Nothing else seems to be working, even on a night when Oakland tried to give the game away early.
The A's continued their dominance over the Astros, capping a three-run comeback with a two-run homer by Josh Reddick off lefty Wesley Wright in the eighth inning on Monday night at Minute Maid Park to send Oakland to its 12th consecutive win over the Astros, 4-3.
The A's improved to 10-0 this season against their new division rivals, outscoring them 72-34. They lead the all-time series against Houston, 15-1.
"Whenever you go 10-0 against a team, you're definitely playing well," Wright said. "But they definitely had a few breaks go their way as well. It's hard to lose 10 games in a row to a team. I feel like we're close, but we're just not over the hump just yet. Myself, personally, and the rest of us have to figure out a way to do it."
Wright (0-4) suffered the loss after serving up the game-winning homer on a 3-2 pitch with one out in the eighth. It was a lefty vs. lefty matchup that manager Bo Porter felt played into the Astros' hands.
"That is the right matchup," he said. "It's the matchup we want. If you don't win that matchup, you don't deserve to win the game."
Wright, who's been with the Astros longer than any other current player (six seasons), said he prides himself in coming into tight situations late in games and being able to get the job done -- especially since starter Dallas Keuchel left with a 3-1 lead after six innings.
"I like the pitch we had called," Wright said. "The execution could have been better, and it's one of those things we've been right there on the cusp all season. For myself, I've let a couple of games get away in situations I feel like I should have gotten the job done. I feel awful for Dallas and those guys."
Reddick's blast helped the A's match their best record after 99 games (58-41) in the past 23 years, and improved their record to 20-11 in one-run games. Grant Balfour worked a 1-2-3 ninth for his 44th straight save (26 this season).
"I was trying to sit slider," Reddick said of the home run at-bat. "The last time I faced him, he threw me a lot [of sliders], so I was waiting for one of those. He tried to nibble away with his fastball, over and over, and after a 3-1 check swing, I got a little frustrated with myself and had to step out of the box and talk myself down a little bit. He threw one right down the middle, and fortunately I didn't miss it."
It was a rough start for Oakland, which committed three errors in the first three innings that helped the Astros take a 3-0 lead. A's pitching righted the ship, holding the Astros hitless over the last five innings. The only runner to reach for Houston in that span came on Jose Altuve's leadoff walk in the eighth. He stole second before being thrown out trying to take third.
"This is definitely a ballgame we feel like we should have won," Porter said. "We put ourselves in position to win early, getting the lead, and I felt late in the game we did not execute the right pitches we needed to make to close it out."
Oakland's shoddy defense benefited the Astros, who took a 1-0 lead in the second when Justin Maxwell doubled, stole third and scored when shortstop Jed Lowrie bounced a throw to first that Nate Freiman couldn't scoop out of the dirt.
Astros shortstop Jonathan Villar, batting leadoff in his Major League debut, put a bunt single down to start the third and promptly stole second. Chris Carter drove him home with a two-out single to make it 2-0.
The A's should have escaped the inning when they got Maxwell to hit a shallow pop to right-center field, but it fell between three players -- second baseman Grant Green was charged with an error -- and a hustling Carter scored all the way from first to make it 3-0.
Keuchel carried a shutout into the sixth before giving up a run after the A's loaded the bases with one out. Chris Young homered off Travis Blackley in the seventh to get the A's to within a run, 3-2.
"It always feel good leaving the game with the lead," Keuchel said. "Obviously, I like to do my job, first of all. It was a struggle early. In the bullpen [before the game] I didn't feel real good, so I told [pitching coach Doug] Brocail, 'Hey, you might have to get someone up pretty early.' I fought hard and I got lucky there for a few innings. That's a good team, and they're a good team for a reason. I felt lucky to escape with one run."
Brian McTaggart is a reporter for MLB.com and writes an MLBlog, Tag's Lines. Follow @brianmctaggart on Twitter. This story was not subject to the approval of Major League Baseball or its clubs.