Werth belts two homers, but Nats' rally falls short
Werth belts two homers, but Nats' rally falls short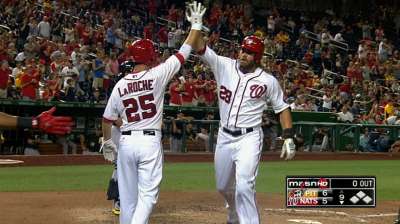 WASHINGTON -- One thing is certain: Rick Eckstein cannot be blamed for the Nationals' 6-5 loss to the Pirates on Monday night at Nationals Park. Earlier in the day, he was dismissed as the hitting coach and replaced by Rick Schu because of the lack of production on offense.
Schu will not report to the team until Tuesday, but the Nationals needed hitting advice on Monday. Washington collected six hits against Pirates right-hander Charlie Morton, who had a no-hitter until the fifth inning, when Adam LaRoche belted a home run to cut the deficit to 5-1.
Two innings later, Jayson Werth made it a close game in the bottom of the seventh, when he hit a two-run homer over the left-center-field wall to make it a two-run contest.
Morton pitched 6 2/3 innings, allowing three runs while striking out five batters.
If Pirates center fielder Andrew McCutchen wasn't part of the equation, it would be safe to say that Dan Haren had a great outing. But McCutchen dominated Haren, hitting two homers and driving in four runs.
McCutchen hit a two-run shot over the right-center-field wall in the first inning. Two innings later, McCutchen hit another long one over the center-field wall to give the Pirates a 4-0 lead.
During his short career, McCutchen has hit over .400 with 13 home runs and 26 RBIs against the Nationals.
"Everybody has that place where they seem to hit better than in other places," McCutchen said. "Mine happens to be here. I've been swinging the bat pretty well as of late, and I felt pretty good when I got here."
Haren threw five innings, allowing five runs on five hits and striking out six batters.
"I felt good," Haren said. "I made those mistakes up in the zone. That has kind of been the story of the year for me. Every mistake I made, I paid the price for it. If I could take those two pitches back, things would be a lot different. Fact of the matter is, I can't."
The Pirates scored their last run of the game on a wild pitch by reliever Drew Storen in the eighth inning. The run was charged to left-hander Ian Krol. Nationals manager Davey Johnson appeared more upset at the wild pitch by Storen than he did at Krol, who allowed a hit and a walk.
"Storen said he had trouble gripping the ball," Johnson said. "We can't make those mistakes."
Storen had a chance to get Pedro Alvarez at the plate after the wild pitch was made, but he bobbled the ball after receiving the throw from Wilson Ramos.
"I caught it right in the palm, so I'm trying to make the catch and get the tag down quick because you know he's coming in," Storen said. "Just didn't catch it in the pocket, and when I put it down, it slid out."
The Nationals made it even closer in the ninth, when Werth hit his second home run of the game, a two-run shot over the right-field wall off closer Jason Grilli. Werth now has four home runs in his last two games.
"He has made some adjustments," Johnson said. "... His approach has been pretty good all year. I think the main thing with him, it feels like his left wrist is healthy. He has been impressive in [batting practice]. He is in a good spot."
But Washington couldn't complete the comeback. After Ian Desmond struck out, Denard Span doubled near the right-field line. After Ramos struck out, Grilli left the game because of right forearm tightness. Vin Mazzaro entered and was able to get pinch-hitter Steve Lombardozzi to ground out to end the game.
With the loss, the Nationals have dropped four consecutive games, nine out of their last 11 and their record fell to 48-51.
Has the team hit rock bottom? According to Johnson, the answer is no.
"There's a lot of character on this ballclub. There is a lot of fight," Johnson said. "When you swing the bats good and you pitch good, that's what sets the ball rolling. It's called momentum. We are just fighting to get a little momentum."
No matter how positive he tried to be, Johnson's face said it all. He was upset and reiterated after the game that it was one of the worst days of his baseball career because Eckstein was no longer with the club.
"It was a bad day for me," Johnson said. "I'm glad it's over with."
Bill Ladson is a reporter for MLB.com and writes an MLBlog, All Nats All the time. He also could be found on Twitter @WashingNats. This story was not subject to the approval of Major League Baseball or its clubs.