Rookies Lake, Rusin carry Cubs in Arizona
Rookies Lake, Rusin carry Cubs in Arizona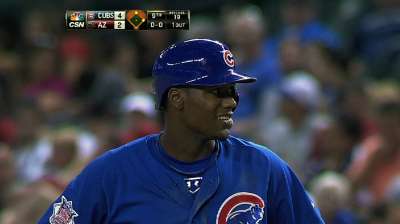 PHOENIX -- Junior Lake and Chris Rusin both made strong cases to stay with the Cubs on Monday night.
Lake notched his first four-hit game, including his first Major League home run, to back Rusin, who made a strong bid for the vacancy in the Cubs' rotation during a 4-2 win over the D-backs, who were passed up by the Dodgers for first place in the National League West.
Lake, promoted on Friday from Triple-A Iowa after an injury to outfielder Brian Bogusevic, is now 9-for-17 in four games, and may never play the infield again.
"He might have found his niche right now," Cubs manager Dale Sveum said of Lake, primarily a third baseman at Iowa who has been playing center.
When promoted, it was thought that Lake would stay until David DeJesus returned from a shoulder injury. DeJesus is close to returning. Will the rookie stay?
"Right now, I'd be pretty stupid to say no,'" Sveum said. "Hopefully, we don't have to send him down."
"I'm going to keep working hard to make it hard on the front office," Lake said. "If you keep working hard, something happens."
Lake led off for the first time and grounded out on the first pitch he saw in the first. He then bunted for a hit in the third, hit a two-run homer in the fifth, bunted for another hit in the seventh and delivered a key RBI single in the ninth off Will Harris.
"The last hit was the biggest hit since he's been here," Sveum said. "To add on like that off a guy he's never seen on a breaking ball, that's huge."
Rusin saw Lake do that in the Minors.
"He's always going 110 percent, flying around the bases," Rusin said. "He's just a tough out. ... It's tough to know where to play the guy and how to pitch the guy. He's playing out of this world right now. It's amazing and fun to watch."
On July 2, Rusin made a spot start for the Cubs, filling in for Scott Feldman after he was dealt to the Orioles. On Monday, Rusin was called on again after Chicago traded Matt Garza to the Rangers for a package of prospects just hours before he was to take the mound at Chase Field.
"He did a great job, considering the circumstances," Sveum said. "To be flying in, and sitting around -- 'Is it going to happen?' It was very impressive."
Rusin was supposed to fly to Phoenix on Sunday night, but was in Round Rock, Texas, and missed his flight out of Dallas. Instead, he arrived on Monday morning and wasn't sure if he'd be pitching.
Rusin doesn't need any more frequent-flyer miles. He'd like to stay. The lefty gave up two hits, including a bloop double, and walked two over five-plus innings.
"I wasn't pleased with my fastball command, but I guess I was effectively wild," Rusin said. "I was able to throw my offspeed [pitches] for strikes and get back in counts."
Arizona manager Kirk Gibson noticed.
"He threw us fastballs in ahead counts and offspeed pitches in behind counts and he kept the ball down," Gibson said. "We haven't been swinging the bats great, and you've got a guy that's moving the ball around the zone and changing speeds on you and we didn't get a lot going."
Dioner Navarro, who had been matched up with Garza over his last six outings, still got the start Monday, and the catcher delivered a solo home run with one out in the second.
Rusin singled to lead off the fifth, and Lake followed with a mammoth shot to left-center off Arizona starter Tyler Skaggs for a 3-0 lead. The Cubs players gave Lake the silent treatment when he first got to the dugout, then celebrated.
"It felt good," Lake said. "I was excited."
The nine hits in his first four games are the most by a Cubs player since Andy Pafko in 1943. Lake is the first Cub with a four-hit effort in his first four Major League games since Steve Lake (no relation) did so on April 26, 1983, against the Padres.
Didi Gregorius doubled to open the Arizona sixth, dropping the ball between Lake and shortstop Starlin Castro in shallow center, and Rusin walked pinch-hitter Adam Eaton. Blake Parker took over for Rusin, and one out later Martin Prado hit a sacrifice fly. Paul Goldschmidt followed with an infield single to score Eaton.
Cole Gillespie, acquired off waivers from the Giants on July 14, made the most of his first start in right field. He crashed into the wall in foul territory reeling in Aaron Hill's fly ball to open the second, and somehow survived, then ignited a double play to end the fifth, catching Gerardo Parra's fly ball on the run, and throwing out Cody Ross at first base, who apparently didn't think Gillespie would get to the ball and was already at third.
The win was the Cubs' second on the road against an NL West team, an improvement over last year's dismal 1-18 road record against that division.
"They're a good team," Rusin said of the D-backs. "I was fortunate enough to keep the ball low, keep it moving and keep them off balance."
And keep Lake in the lineup.
Carrie Muskat is a reporter for MLB.com. She writes a blog, Muskat Ramblings, and you can follow her on Twitter @CarrieMuskat. This story was not subject to the approval of Major League Baseball or its clubs.