Escobar back in lineup; Myers available off bench
Escobar back in lineup; Myers available off bench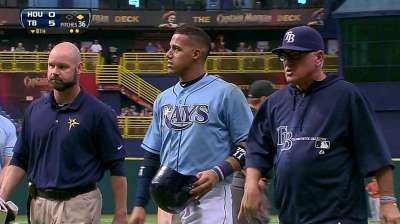 BOSTON -- After missing the first three games after the All-Star break with a mild strain of his right hamstring, Yunel Escobar was back in the lineup for Monday night's series opener against the Red Sox.
"Escobar was adamant that he felt fine to play tonight," said manager Joe Maddon, who noted that Escobar was put through plenty of tests on Sunday and Monday to ensure that he indeed was ready to go.
Meanwhile, Wil Myers, who missed Sunday's game because of a sore wrist, did not start on Monday night, though he was available off the bench.
"Wil ... felt a lot better," Maddon said. "I still wanted to see one more day of that. He's definitely ready to pinch-hit tonight. I felt more comfortable with one more day. He's good. He's made progress. But I thought that was the prudent thing to do tonight, utilize him off the bench."
When asked about his situation, Myers said his wrist felt "a lot better than yesterday."
"Feels about 100 percent," he added. "I think it was just one of those things where they wanted to give me an extra day just to be sure. I'm available to come into the game at any time today."
Myers hurt the wrist while sleeping and irritated the problem further when sliding during the Rays' recent series against the Twins.
"I think, honestly, I slept on it wrong," he said. "I don't really know what happened. It was kind of a strange thing."
Bill Chastain is a reporter for MLB.com. This story was not subject to the approval of Major League Baseball or its clubs.