After dropping foul ball, Sox fan gets another chance
After dropping foul ball, Sox fan gets another chance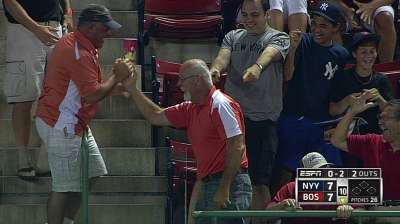 BOSTON -- For one Red Sox fan, redemption came in the form of a foul ball.
In the middle of a thrilling, 8-7 Red Sox victory over the Yankees on Sunday night, Paul Desrosiers thought he dropped the only baseball he'd ever have a chance to catch at a Major League game.
It happened in the seventh inning, when Yankees center fielder Brett Gardner fouled a ball back to the third-base side of home plate. As the ball rose toward his first-row seat in the upper deck, Desrosiers, who has been going to Fenway since he was six and had never caught a ball, realized this was his chance.
"All I could see was the ball coming to me and I said, 'I got this baby. I got this baby,'" the retired 62-year-old said.
But he didn't have it. The ball bounced off his hands and plummeted toward the lower level, temporarily taking his good spirits with it. He looked at his hands in disbelief as the Yankees fans in the row behind him high-fived in jubilation.
His friend chronicled the moment by snapping a picture of Desrosiers' disappointment.
"We gave him a hard time. I actually have a picture of him. He looks pretty sad," said Lucio Serpa, 64. "He definitely should have caught that ball. He's very athletic."
But even in his moment of despair, Desrosiers had an inkling that fate would find him again.
Sure enough, three innings later, it did.
A Shane Victorino foul ball in the 10th inning landed behind Desrosiers' seat, but it ricocheted and rolled right to him. The crowd remembered his miscue and gave him a nice ovation, which he responded to with a wave and pump-faking a throw toward the field.
"I had a feeling it was going to happen again, but what are the odds?" he said. "I've been coming here since I was 6 years old. It's the first time I've had two balls come my way. I had an opportunity once years ago when they had Interleague Play and they were playing against the Atlanta Braves. Pedro Martinez had 17 strikeouts in that game. I reached for another ball -- a ball came my way -- and I reached for it and it came off my left hand, my fingertips. I lost that one. That was the first time in my whole entire life, but I'll tell you what, this makes up for it, man. This is great."
Moments after Mike Napoli hit a walk-off solo homer in the 11th inning, Desrosiers still proudly gripped his prize. The game that started on Sunday seeped into the early hours of Monday, but he never considered leaving.
Sure, he wanted to see the Red Sox pull out the victory, but he also had another, more selfish reason.
"I wanted another [foul ball] actually," he said, smiling. "I was getting greedy."
Ian Browne is a reporter for MLB.com. Read his blog, Brownie Points, and follow him on Twitter @IanMBrowne. Michael Periatt is an associate reporter for MLB.com. This story was not subject to the approval of Major League Baseball or its clubs.