Boston's lead shrinks after shutout loss to Tampa Bay
Boston's lead shrinks after shutout loss to Tampa Bay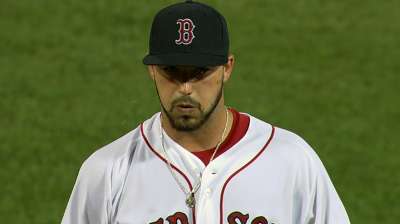 BOSTON -- Right-hander Brandon Workman just happened to be pitching against the wrong guy on the wrong night in his second Major League start, and first at Fenway.
Just like when he opened with six no-hit innings against the A's in his July 14 start and was unable to get the win, the same was the case on Monday.
This time he and the Red Sox fell to Matt Moore and the red-hot Rays, 3-0, in the opener of a four-game series.
Moore fired a two-hit shutout, the first of his career, and Tampa Bay made it 18 victories in the last 20 games to pull within a mere half-game of first-place Boston.
"Obviously, he hit his spots," said right fielder Shane Victorino. "That's why he was effective from our end. Again, you tip your cap. I never take credit away from a guy when he pitches well. He pitched very well. And obviously, they're a good team. They're a hot team."
If not for Moore's brilliance, the story of the night could well have been Workman. Sure, he struggled a bit in the first inning, throwing 29 pitches.
But from that point forward, he cruised.
Over six innings, Workman scattered seven hits while allowing two runs. He walked two and struck out four.
"I feel comfortable out on the mound," said Workman. "I feel like I've settled in. I'm throwing the ball pretty well, for the most part. I don't really have any nerves or anything like that right now."
For a while the Red Sox had tried different people in place of Clay Buchholz, who has been out since June 8 and will miss at least a couple more weeks.
But Workman looks poised to hold down that spot until Buchholz returns.
"He keeps the game under control," said manager John Farrell. "He shows some maturity on the mound for just three appearances here at the big league level. An outstanding six innings of work for us tonight."
Considering that the Red Sox were coming off an 11-inning win over the Yankees on Sunday, it was big to get six innings from Workman.
Equally vital was the job out of the bullpen by Jose De La Torre, who went 2 2/3 innings, giving up a hit and a run while striking out three.
Other than Craig Breslow, who recorded one out, the rest of the bullpen got the chance for a complete night of rest.
"Every time you feel more comfortable, you get used to it. You know what to do, what to expect," said De La Torre. "I feel good, and I feel more comfortable."
The same goes for Workman. Even during his first-inning struggles, he was able to minimize the damage, helped by a pickoff of leadoff hitter Desmond Jennings. The only run the Rays scored in that inning came on a sacrifice fly to right by James Loney.
While Moore (14-3, 3.17 ERA) mowed down the Red Sox, much like he's done to nearly every lineup he's faced this season, Workman settled into a nice groove.
"It's obviously a great atmosphere," said Workman. "Coming off that last series we had against the Yankees, it was unbelievable, with the fans and everything. I feel like it was that way again today. A lot of energy in the stadium. It's exciting to throw here."
It turns out Workman had pitched at Fenway once before, but in front of far fewer than the 35,016 who attended this showdown.
"In college I threw in the Cape Cod All-Star Game here in 2009. That was my first time on the mound here," he said.
The Rays didn't score again until the fifth. Yunel Escobar led off with a walk, and Jennings sacrificed him to second. Ben Zobrist tapped one to short and narrowly beat the throw by Jose Iglesias for an infield hit. Loney again came through, this time with an RBI single to right to make it a 2-0 game.
The way Moore was pitching, that deficit loomed large. The lefty gave up just one hit over the first six innings, a single up the middle in the second by Mike Napoli.
David Ortiz tried to start something in the seventh by rifling a two-out single to right. When Ortiz reached second on a passed ball, he was the first Boston runner to be in scoring position all night, but Napoli couldn't get him home, flying out to right to end the inning.
"They're dangerous," Moore said of the Red Sox. "When they get a runner on and the crowd gets into it, they start to get those rallies going. I think we were able to keep them off balance enough to not be able to get too many runners on base right after each other."
As impressive as Moore has been all season, this performance might have represented a breakthrough.
"I would say in the Major Leagues, that's the most efficient I've been," he said. "I think that's probably the best game I've ever thrown, taking into consideration that the Red Sox are playing pretty well right now, and we're on the road."
The Red Sox will try to bounce back behind Jon Lester on Tuesday.
"We're still in first place," said Victorino. "They're still a half-game behind us, so we still control our own destiny, but again, it's not the end of the season."
Ian Browne is a reporter for MLB.com. Read his blog, Brownie Points, and follow him on Twitter @IanMBrowne. This story was not subject to the approval of Major League Baseball or its clubs.