Moore's first shutout has Rays knocking on East door
Moore's first shutout has Rays knocking on East door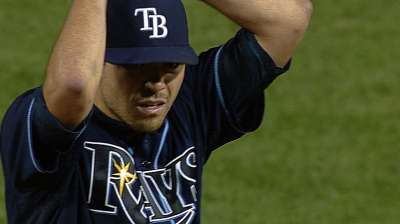 BOSTON -- Matt Moore certainly didn't leave it in the bullpen on Monday night.
The young left-hander pitched like an All-Star, throwing his first career shutout in leading the Rays to a 3-0 win over the Red Sox at Fenway Park.
Tampa Bay's sixth consecutive win brought the club to within a half-game of division-leading Boston in the American League East. The Rays have now won 14 of their last 15 games and 18 of their last 20, becoming the fourth team in the last 10 years to go 18-2 or better over a 20-game span.
It's pretty hard to believe, but Moore actually struggled while warming up prior to the game, but once he took the mound, something clicked, and he began to roll.
The 24-year-old was extremely efficient -- which is how he has been successful since a May slump that saw him lose three straight starts -- needing just 109 pitches to complete the two-hitter.
"Just commanding his pitches promotes, obviously, that kind of performance," manager Joe Maddon said. "He went through a little bit of a stretch where he got the wins, but the command wasn't good. A lot of pitches after five innings. He was sitting on [96 pitches] after the eighth [on Monday night]. That's pretty impressive, man. And I really believe that's what he's capable of doing on a pretty consistent basis."
Moore called his performance "the best game I've ever thrown, taking into consideration that the Red Sox are playing pretty well right now, and we're on the road."
"That's my first shutout, and [to only need] about 109 pitches or so, it feels very good to be able to play that clean of defense," he added. "Put up a couple of runs and let the bullpen have a night off."
At 24 years and 34 days, Moore is the youngest Rays pitcher to throw a shutout since Wade Davis on Sept. 17, 2009, against the Orioles. It was also the first thrown by an opposing pitcher at Fenway Park since Roy Halladay did so on Sept. 30, 2009.
In addition, Moore is the second Rays pitcher to blank the Sox at their home, following Steve Trachsel on May 16, 2000.
"Obviously, he hit his spots," Red Sox outfielder Shane Victorino said. "That's why he was effective from our end. Again, you tip your cap. I never take credit away from a guy when he pitches well. He pitched very well."
Pitching coach Jim Hickey liked the calm he saw in Moore on Monday night, particularly the easy way he seemed to breathe on the mound.
"I don't know how many balls they squared up all night long, maybe two, maybe three," Hickey said. "And he also didn't really throw what I would consider a noncompetitive pitch, except for maybe two or three times all night long."
Moore, who was making his first start since pitching a perfect inning in the All-Star Game, has now won his last six starts while improving to 14-3 on the season.
Meanwhile, all wasn't lost for the Red Sox, who started 24-year-old right-hander Brandon Workman. Workman was making his first start at Fenway Park, and his second start and third appearance overall. And he had a tall order to fill based on the state of the Red Sox bullpen.
Boston's 8-7 win over New York on Sunday night took 11 innings and saw six relievers cover 5 2/3 innings, so to say the Red Sox bullpen was running on fumes would have been an understatement.
Workman responded with a blue-collar effort that saw him allow two runs on seven hits in six innings. James Loney drove home Tampa Bay's only runs against the right-hander, with a sacrifice fly in the first and an RBI single in the fifth.
Workman's performance might have helped the Red Sox bullpen get back on track for the remainder of the series, but clearly, Monday night belonged to Moore, who appreciated the significance of the win -- even if it is just July.
"Yeah, absolutely," Moore said. "Any time we can add losses to their column and take our wins, it's killing those two birds with one stone."
Although Tampa Bay took the first game, nobody expects Boston to go down quietly in the remaining three games of the series, particularly the Red Sox.
"Obviously, they're a good team," Victorino said. "They're a hot team. They're coming in playing good baseball. We talked about it a little bit before the game; it's going to be a tough series for us. But you know what? It's not the end of the world. You know, people are going to make whatever out of it. We're still in first place. They're still a half-game behind us, so we still control our own destiny, but again. it's not the end of the season."
Bill Chastain is a reporter for MLB.com. This story was not subject to the approval of Major League Baseball or its clubs.