Napoli's second homer finishes Yanks in 11
Napoli's second homer finishes Yanks in 11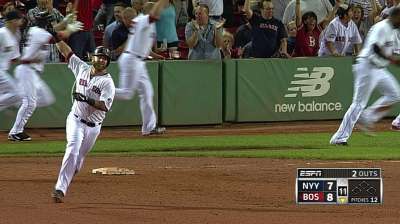 BOSTON -- The allure of Mike Napoli -- the reason the prolonged slumps and all of the strikeouts can be worth it -- was there for all to see at 12:53 a.m. ET on Monday, as he was mobbed by his teammates at home plate after ending a thrilling 8-7, 11-inning victory over the Yankees at Fenway Park.
At that joyous moment for the Red Sox, it hardly mattered at all that Napoli had struck out three more times and thwarted a potential winning rally in the eighth by hitting into a 6-4-3 double play.
All that was relevant was the sheer force Napoli put into that solo rocket of a walk-off homer against Yankees reliever Adam Warren that landed in the bleachers in straightaway center.
"Once I got to 2-0, I was looking to drive something," said Napoli. "I swung through it but got to 2-2. Every time I'm up, I'm looking to drive the ball somewhere. I got a ball up and made good contact."
By the time Napoli reached home, the strong-armed David Ortiz had ripped the first baseman's jersey open.
"It's a great feeling," Napoli said. "You see us all out there, going crazy, ripping each others' jerseys off. It's fun. It's fun to do it. It's about winning -- win a ballgame, especially a tough game like that. It was just a great feeling."
Earlier in the night, Napoli hit a towering blast that soared over the Green Monster and onto the street to turn a 3-1 Yankees lead into a 4-3 edge for Boston.
On this evening, Napoli produced more power than he did between June 2 and July 5, when he went deep just once.
Sunday, the hot Napoli and the slumping Napoli were both on display.
"Well, both sides of the coin," said Red Sox manager John Farrell. "I guess that's a snapshot, somewhat, of his career path. We know and certainly live with some swing and miss. The ability to drive the ball out of the ballpark to all fields is present every time he steps into the batter's box.
"Even though we [fight] back after digging ourselves a hole early and we give it back, we keep coming. That's kind of the characteristic of this team."
Through their first 100 games, the Red Sox have 60 wins, nine of which have come via a walk-off hit.
Napoli's game-ender could not have come at a better time, considering the surging Rays come to Fenway for a four-game set that starts on Monday night. Boston leads second-place Tampa Bay by 1 1/2 games in the American League East.
Perhaps Napoli's power-packed performance in this one will carry into the showdown against the Rays.
"I'm starting to feel better," Napoli said. "There are times when I get deep in counts, swing at pitches I really wish I didn't, but I'm seeing the ball a little bit better. I have my good ABs and my bad ABs during a game, but I'm just trying to go out there and give a tough AB every time. For me, it's just being able to get my foot down on time, be ready to hit."
The game lasted four hours and 46 minutes and had multiple personalities. By the time the Yankees overcame a four-run deficit against Ryan Dempster and Boston's bullpen, it was a 7-7 game entering the bottom of the seventh.
From there, it evolved into a fierce bullpen duel in which the Yankees never went to Mariano Rivera, instead holding him out for a save situation that never came.
And the Red Sox, who are without Andrew Bailey and Andrew Miller for the rest of the season, utilized two relievers at the end of the game who have spent most of the season in the Minors.
Lefty Drake Britton worked a scoreless 10th, working around a hit and a walk. Righty Pedro Beato got the win by keeping the Yankees off the board in the 11th, aided by a generous call at second base, where Eduardo Nunez was called out stealing for the third out when he looked safe.
"I had a bunch of opportunities," said Red Sox catcher Jarrod Saltalamacchia. "Early in the game, we had a couple that got away from us and cost us some runs, but that shows us what kind of team we are, being able to battle back and get the win."
Dempster recovered from a shaky opening and left with a 7-4 lead. Over 5 1/3 innings, Dempster give up six hits and five runs, just three of which were earned.
"It was a good win," Dempster said. "Just keep playing good baseball. We're trying to win a series any time we can, and we won another series today."
Thought it was hardly his best performance, Dempster did outpitch CC Sabathia, who continued a strangely mediocre season by giving up nine hits and seven runs over five-plus innings.
"It's embarrassing," Sabathia said. "But I have to try to work through it, figure something out, try to stop hurting this team and start helping."
After Jonny Gomes put Boston up, 7-3, with a solo homer in the fifth, the Yankees climbed back into it in the sixth. Brett Gardner came up with an RBI single that knocked Dempster out of the game. On came lefty Craig Breslow, who was greeted with a line-drive single to center by Ichiro Suzuki, then an RBI single to left by Robinson Cano that slimmed Boston's edge to 7-5. But Breslow made the pitch he needed, getting an inning-ending double play off the bat of Lyle Overbay.
Eventually, New York did climb all the way back. With two on and one out in the seventh, Junichi Tazawa came on for Breslow. Chris Stewart dropped down a bunt, and third baseman Jose Iglesias committed the third error of the night for Boston, making a wild throw to first. That allowed a run to score, slimming the deficit to a run. Luis Cruz tied it up with a fielder's-choice grounder.
Gardner worked a prolific 15-pitch walk against Tazawa, but the right-hander settled down nicely, getting Ichiro on a tapper to end the inning.
Ultimately, a hard-fought battle came down to a huge swing by Napoli.
"Nap had two big, big homers that helped us out, obviously," said Saltalamacchia. "He's a dangerous bat. He's a guy that everybody fears. He can do some damage at any point. He picked us up big early in the game and then picked us up big at the end."
Ian Browne is a reporter for MLB.com. Read his blog, Brownie Points, and follow him on Twitter @IanMBrowne. This story was not subject to the approval of Major League Baseball or its clubs.