D-backs take advantage of Delgado's solid work
D-backs take advantage of Delgado's solid work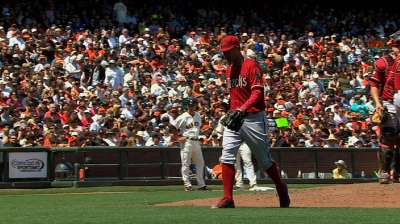 SAN FRANCISCO -- Randall Delgado is doing his best to make manager Kirk Gibson's upcoming decision as difficult as possible. With injured starter Brandon McCarthy set to return from the disabled list soon, Delgado's impending role with the D-backs is uncertain.
But with a stifling outing Sunday, the right-hander stood toe-to-toe with All-Star Madison Bumgarner in a much-needed 3-1 victory that kept first place in Arizona's grasp and away from the surging Dodgers.
"Delgado was a stopper today," D-backs outfielder Cody Ross said. "He threw outstanding."
Delgado pitched 5 2/3 scoreless innings and has yet to allow more than three earned runs in any of his seven fill-in starts for Arizona. Even the D-backs' continued issues with runners in scoring position -- they went 2-for-8 Sunday to finish the series 4-for-21 in such situations -- could not deny Delgado a victory.
"It was a struggle," Gibson said. "We didn't play great, but the club battled great. We got good pitching today from Randall."
Former Giant Ross finally gave Gibson the big hit for which he had pleaded with a two-out, two-run single to put the D-backs ahead by three runs and provided Arizona with its first runs since the first inning.
"He's been in that situation a lot in his career," third baseman Martin Prado said. "I'd take my chances with him every time. That's why he's one of the best with clutch hits. That gave us some room to win the game."
Prado tripled with one out in the first and trotted home on a Paul Goldschmidt sacrifice fly for the game's first run. Gibson emphasized the need for another hitter to pick up Goldschmidt during his struggles earlier in the series, but it was the MVP candidate's 78th RBI that put Arizona on the board first. He also doubled and walked twice.
"The last two days I feel like we got better at-bats," Prado said. "We got a huge win today."
The Giants squandered their best scoring opportunity in the sixth. After Buster Posey walked, Pablo Sandoval lifted a Delgado pitch into left-center that rolled all the way to the wall. Giants third-base coach Tim Flannery waved Posey home, but the relay from center fielder A.J. Pollock to shortstop Cliff Pennington to catcher Miguel Montero beat the sliding Posey for the inning's first out. San Francisco stranded Sandoval at third base.
"That's a great play there to get a great throw from the outfield and [Pennington] turned it around quick," Gibson said. "We worked all spring on getting it on the glove side so the guys can make a quick turn and A.J.'s got a good hose out there. That was a huge play for us."
San Francisco got on the board in the ninth thanks to a pair of D-backs errors that plated a run before Brad Ziegler finished off the save. Kensuke Tanaka committed a critical baserunning error that halted the potential rally. After Aaron Hill's throw sailed past Goldschmidt, allowing Hunter Pence to score, Tanaka attempted to advance to second, but Goldschmidt retrieved the ball and slung it to Hill in time to clear the bases with two outs.
"Maybe it would have been a good idea to stay at first base," Tanaka said.
Gibson said Ziegler is handling ninth inning duties "for now ... but that could change." The D-backs manager added that Ziegler's ability to induce ground balls often makes him a valuable weapon to get out of jams earlier in the game.
For Delgado, the future is uncertain outside of his next scheduled start. Gibson had mentioned the possibility he would move to the bullpen once McCarthy returns but, given Arizona's rotation issues, the move is anything but certain.
"We just couldn't figure out their guy," Giants manager Bruce Bochy said. "He was throwing mostly fastballs with good movement on them."
The D-backs accomplished the tall task of defeating Bumgarner, who earned a quality start for the seventh straight outing. The loss was his first since June 24 as Delgado and the D-backs bullpen shut down the Giants.
Arizona avoided a sweep and prevented the Giants from climbing within 3 1/2 games of it in the National League West. A loss would have turned the division lead over to Los Angeles, which swept Washington this weekend.
"Obviously, with technology today ... it's hard not to see where [the Dodgers] are at, but we're focused on ourselves," Ross said.
Andrew Owens is an associate reporter for MLB.com. Follow him on Twitter @OwensAndrew. This story was not subject to the approval of Major League Baseball or its clubs.