Rally comes up short after costly sixth-inning miscue
Rally comes up short after costly sixth-inning miscue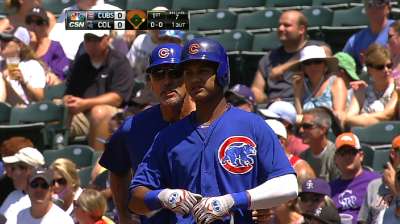 DENVER -- Three games into his Major League career, Junior Lake has already experienced the wild roller coaster that is professional baseball. Two days ago, Lake was enjoying a view atop the baseball world after going 3-for-4 with a stolen base in his big league debut, a 3-1 win over the Rockies. But his early fortunes reversed Sunday, when Lake committed a costly error and struck out twice with runners in scoring position in a 4-3 loss to the Rockies at Coors Field.
Another efficient outing for Edwin Jackson took an unfortunate turn on a routine single in the sixth. When Nolan Arenado dropped a single into center field in front Lake -- a player who has spent most of his professional career as an infielder -- the rookie launched a throw over the catcher that nearly flew all the way to the backstop.
Cubs manager Dale Sveum said the errant throw was likely a product of his inexperience at the position and teammates were quick to come to his defense.
"It's just one of those unfortunate plays, just one of those games," Jackson said. "It's a do-or-die play.
"It's tough, but he's young and he's full of energy, and I'm sure he's pretty excited. But he's been doing a great job out there so far."
The ball kicked into the Rockies' dugout, allowing Carlos Gonzalez and Michael Cuddyer to score and putting the Cubs down, 4-2. Cuddyer and Gonzalez both reached on walks, but only one run was credited to Jackson.
"It's funny, right when I hit it, I was like, 'Oh, thank God, it was right up the middle,' and good thing CarGo is fast," said Arenado, whose hit ended an 0-for-18 slump.
Arenado sprinted past third base and tried to cross home plate, but the umpires ruled that he had not reached first by the time Lake released his throw. By rule, a runner receives two bases on a throw from the field that goes out of play.
An on-target throw to catcher Welington Castillo may have kept Colorado scoreless in the inning.
"Yeah, with a good throw he was out, easy," Sveum said. "We could have bounced it a couple times, I think, and would have caught him,"
Jackson lasted seven innings, giving up three earned runs on just five hits, striking out five and walking two. It moved Jackson (6-11) to 1-3 in his career against the Rockies, lowering his sky-high career ERA against Colorado to 13.06.
Lake was caught in another tough spot in the first, when he came to the plate with two outs and the bases loaded. But Rockies starter Tyler Chatwood got the youngster to miss on a 95-mph fastball, ending the inning with the scoreboard still reading zeros.
It was Chicago's first series loss in their last five and tied the season series with the Rockies at 3-3. After winning seven of nine going into the All-Star break, the Cubs have dropped two straight and will attempt to get back on track with a four-game set against the D-backs beginning Monday.
Shortstop Starlin Castro kept the Rockies on their toes, going 4-for-5 with three singles and a double, the 10th four-hit game of his career and his first this year. Castro admitted he lost some confidence in his first game back from the All-Star break, but Sunday's performance cleared any doubts from his mind.
"I feel positive [mentally], don't think about nothing negative, just play baseball like I always do and be aggressive," he said.
Chicago's offense stumbled early Sunday with four hits through five innings. But slugger Anthony Rizzo triggered a two-run sixth when he launched a Chatwood fastball into the left-field bleachers. Rizzo's opposite-field homer was his first since July 9 and 14th this year.
Nate Schierholtz and Lake, who was making his third straight start in center field, knocked back-to-back one-out singles in the sixth. Schierholtz made it to third when Chatwood's pickoff throw flew into center field, setting up Darwin Barney's sacrifice fly to tie the game at 2. That was enough to chase Chatwood -- steady and effective in his first career start against the Cubs -- into the clubhouse. He left after allowing two runs (one earned) and seven hits over six innings, striking out two.
"We outhit them, we just didn't outscore them," Jackson said. "So it was just one of those days where they have the timely hits and we didn't. But nevertheless we still fought hard, and we don't really have much to hold our heads down about.
Charlie Blackmon started the Rockies' two-run first with a ground-rule double that sailed over the left-field wall. Gonzalez's two-out single scored Blackmon, and Cuddyer doubled to right to put the Cubs in an early two-run hole.
The afternoon concluded in fittingly frustrating fashion for Lake and the Cubs. Castro smacked a leadoff double in the ninth off closer Rex Brothers and scored with one out to make it a one-run game before Cody Ransom hit a ball into the stands that hooked left of the left-field foul pole.
Their final chance rested with Lake's bat, but he swung and missed at a slider with a runner on first. It was his third strikeout of the game, and with it the Cubs' hopes of a late comeback disappeared.
"We had guys on all day and we just didn't get that big hit," Rizzo said. "From the first inning on we threatened, and hats off to them for making the pitches they need to make."
Ian McCue is an associate reporter for MLB.com. This story was not subject to the approval of Major League Baseball or its clubs.