Bumgarner strong, but Giants can't complete sweep
Bumgarner strong, but Giants can't complete sweep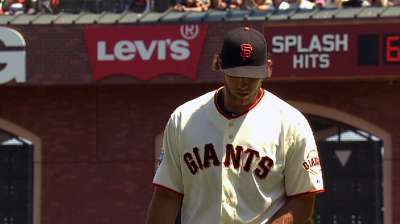 SAN FRANCISCO -- Before the Giants began their weekend series against the Arizona Diamondbacks on Friday, San Francisco manager Bruce Bochy considered his team's fourth-place status in the National League West and said, "We don't have the margin for error that other clubs have."
Bochy's remark resonated Sunday, as the Giants offset a typically effective performance from Madison Bumgarner with numerous mishaps and miscues in a 3-1 defeat that dampened their promising start to the season's second half.
San Francisco captured the series by winning the first two games but squandered a chance to complete its second three-game sweep of Arizona this season. As a result, the D-backs remained in first place in the National League West, a half-game ahead of Los Angeles and 5 1/2 ahead of the fourth-place Giants.
Bumgarner, who allowed the D-backs one run in seven innings, sounded encouraged.
"If we win every series, we should be sitting pretty good in September," the NL All-Star said.
That's unlikely to occur if the Giants repeat Sunday's overall performance too frequently. They committed shortcomings (at best) and flat-out mistakes (at worst), which sealed Arizona's triumph.
Key plays included Martin Prado's first-inning triple, which left fielder Kensuke Tanaka caught up to but couldn't grab; Buster Posey's unsuccessful attempt to score from first base on Pablo Sandoval's sixth-inning double, which unleashed a torrent of self-criticism from third-base coach Tim Flannery; and Tanaka's ill-fated dash from first to second base in the ninth inning, which blunted San Francisco's last-ditch rally.
The Giants also displayed a familiar first-half flaw: limp offense. They hit .228 (21-for-92) in the series, including .143 (3-for-21) with runners in scoring position as they mustered seven runs against Arizona.
Of course, each run scored at AT&T Park always looms large. That's why it seemed ominous when Prado, the game's second batter, launched a drive toward the left-center-field gap. Tanaka, a second baseman in Japan who only recently began playing the outfield, outran the ball but couldn't extend his reach fully. The ball grazed the webbing of his glove and fell safely as Prado sped to third. He scored on Paul Goldschmidt's sacrifice fly to left.
"The ball was flying," Tanaka said through an interpreter, bullpen catcher Taira Uematsu. "I thought I might have a shot at catching it."
The Giants still trailed, 1-0, when Posey drew a four-pitch walk from D-backs starter Randall Delgado (2-3) to open their half of the sixth. Sandoval then rocketed a first-pitch fastball to the wall in left-center field. Posey appeared destined to score, but efficient relays by center fielder A.J. Pollock and shortstop Cliff Pennington apprehended Posey.
Pennington's throw, which he delivered on the fly to catcher Miguel Montero, was virtually perfect.
"This is the big leagues. This is the way it goes sometimes," Posey said. "They had to make a good relay and a good throw to the plate."
Flannery believed that he erred by sending Posey home.
"With nobody out, you never want to get anybody thrown out," Flannery said. "I feel terrible about it. I feel responsible -- not only for the team's loss, but for Bum not getting a win and getting a loss. That all comes with the territory over there. There's days when you have a moment that you help win games. Occasionally you're in the middle of helping to lose a game. That's how I felt today."
Bumgarner (10-6) absolved Flannery.
"I don't think anybody's blaming the loss on him, except maybe himself," the left-hander said.
Trailing, 3-0, the Giants briefly pressured Arizona in the ninth, helped by reliever Brad Ziegler's mishandling of Hunter Pence's leadoff comebacker. Brandon Belt tapped an infield single. Though Tanaka hit a grounder up the middle that forced Belt, the Giants received a fleeting break when second baseman Aaron Hill's relay skipped past first base. That enabled Pence to score, but Tanaka tried to advance to second base and was thrown out. At that juncture, moving a man into scoring position wasn't essential for the Giants. Piling up baserunners was.
"Maybe it would have been a good idea to stay at first base," Tanaka said.
Pence's run could have been enough to force extra innings. But Arizona's Cody Ross, the Most Valuable Player of the 2010 NL Championship Series with the Giants, stroked a two-out, two-run single off Jean Machi one inning earlier.
To the Giants and everybody witnessing Ross' hit at the ballpark or on television, it should have been a familiar sight.
"He's been in that situation a lot in his career," Prado said. "I'll take my chances with him every time. That's why he's one of the best with clutch hitting. That gave us room to win the game."
Chris Haft is a reporter for MLB.com. This story was not subject to the approval of Major League Baseball or its clubs.