Rangers go quietly after miscues prove costly
Rangers go quietly after miscues prove costly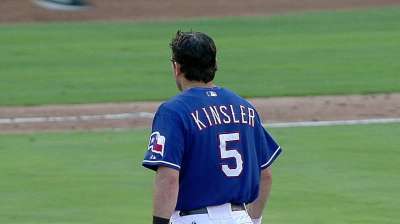 ARLINGTON -- Three games, three losses.
This wasn't what the Rangers had in mind to start the second half in a tight American League West race. They were beaten in every facet of the game in a 4-2 loss to the Orioles on Sunday at Rangers Ballpark in Arlington.
"Very uncharacteristic baseball," Rangers manager Ron Washington said. "Plays that we usually take pride in making we just haven't made. Sometimes the game finds you in that position, but we'll keep grinding."
The Rangers have been swept in two of their last six series of three games or more in Arlington. They've lost seven of their last eight games and fell three games back of the A's for first in the AL West and a game back of the O's for the second AL Wild Card spot.
"We lost to three games to a team I feel like we should beat," Ian Kinsler said. "It's not very characteristic of us, but we'll see how we respond."
David Murphy lost a ball in the sun in left field during the second inning, allowing Chris Davis to lead off with a double. It sparked a two-run inning on four hits for the O's, who took advantage of a wild pitch by Martin Perez and a fielding error by Elvis Andrus. Perez limited the damage, pitching out of a bases-loaded, no-out situation with two strikeouts and a groundout to second.
Perez allowed a run apiece in the third and fourth innings, but he kept the Rangers in the game through 6 1/3 innings. He allowed four runs on nine hits with five strikeouts and a walk. Along with the lack of defensive support, Texas couldn't provide Perez with runs. The Rangers got their first hit off Chris Tillman on Kinsler's double with two outs in the third. Kinsler plated the team's first run in the fifth on an RBI single, but Murphy was thrown out at home on a 9-3-4-5-2 putout to end the inning.
The Rangers have had runners thrown out at third in consecutive nights because of the indecisiveness of third-base coach Gary Pettis, who attempted to call back Murphy to third when he was already halfway down the line.
"He wanted to send him, but he second-guessed himself and got caught in between," said Washington. "That happens. Next time, just do what you think is right. If it turns out good, it turns out good. If it turns out bad, it turns out bad. But you can't play the game where you second-guess yourself."
The Rangers stranded Craig Gentry at second after a leadoff double in the sixth on a strikeout and two lineouts. They were 1-for-6 with runners in scoring position. Texas had a chance to chip away at the deficit in the seventh, but it got doubled up on Murphy's lineout to shortstop with one out. Elvis Andrus couldn't get back to first in time and was thrown out to end the inning.
"[The series] didn't go the way we wanted to," Andrus said. "I think we left too many guys on base. We've got to execute, and I think that's something everyone knows, and of course you're going to keep working on it."
Tillman earned the win, allowing a run on five hits in eight-plus innings, exiting after Adrian Beltre's leadoff homer in the ninth. Tillman tallied five strikeouts and allowed one walk.
"I think any time you come into a ballpark like this, a ballclub like this, and get them all, I think that's important," Tillman said. "It's a good start to the second half. Hopefully we can keep it rolling."
The Rangers' ninth-inning rally fell short with the tying run at the plate and one out. Andrus grounded out into a force out and Murphy struck out to end the game.
"It's just frustrating to lose," Kinsler said. "You can still make mistakes and win games. They capitalized on our mistakes. They're a good team. We just didn't score enough runs.
The Rangers have lost five straight to the Orioles. They've already lost the season series, which currently stands at 2-5, to the playoff-contending team.
Master Tesfatsion is an associate reporter for MLB.com. This story was not subject to the approval of Major League Baseball or its clubs.