Walk-off in 13th backs Brewers' stellar pitching
Walk-off in 13th backs Brewers' stellar pitching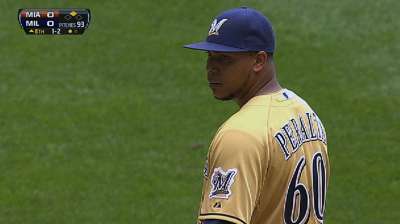 MILWAUKEE -- The Brewers did not exactly rewrite the club record books in the first half of the season, and when they did set a new mark, it was a dubious one -- 32 consecutive innings in April without scoring a run.
Just three games into the second half, though, the Brewers are doing to hitters what pitchers previously did to them. On Sunday, Milwaukee outlasted the Marlins for a 13-inning, 1-0 win, sweeping Miami with three consecutive shutouts at Miller Park.
The marathon win -- ending with Caleb Gindl's walk-off home run to lead off the 13th inning -- helped the Brewers match a club record with three straight shutouts and set a new one with 35 consecutive scoreless innings to top the mark of 31 set in 1990.
Milwaukee will send Tom Gorzelanny to the mound to try for its fourth consecutive shutout Monday against the Padres for a chance to pass a club record set from April 19-21, 1990.
The Major League record for consecutive shutouts is six by the 1903 Pittsburgh Pirates.
"I don't think I ever have been a part of something like this," said reliever John Axford, who pitched the final two innings Sunday. "It's a whole team effort. It's good defense -- especially for me, when I was out there -- and it's timely pitching. That's the key to a lot of success."
The Marlins are floundering the other way, having not scored in a franchise-high 37 consecutive innings, dating back to the fourth inning of their 10-inning loss to the Nationals on July 14.
Sunday was the longest scoreless game in the Major Leagues since Boston beat Tampa Bay, 1-0, in 16 innings on July 17, 2011, according to Stats, Inc., and it was the Brewers' fifth walk-off win and their first walk-off home run this season. It was also Milwaukee's first 1-0 game of the season.
"There seems to be a lot of records going on," said Brewers manager Ron Roenicke, whose team is 5-6 in extra innings this year.
The Brewers' pitching staff -- once heralded among the worst in the Majors -- has turned a corner to help the Brewers fall on the positive side of the record book. Milwaukee was once the only Major League team this season without a shutout, until they blanked the Reds on June 15 in Cincinnati. Since then, they have racked up a Major League-best eight shutouts.
Sunday's starter Wily Peralta has contributed to two of those in his last three starts. On July 9 against the Reds, the right-hander tossed a three-hit complete game to become the first Brewers starter to go the distance in the team's last 407 regular-season games.
Peralta was still in prime form Sunday as he retired the first eight batters he faced while tossing eight scoreless innings, allowing just two hits while walking two and striking out seven. He threw 97 pitches -- 67 for strikes. The 24-year-old has dazzled over his last four starts, posting a 0.31 ERA (one earned run allowed) in 29 1/3 innings. The Brewers have won all four of those games.
"Wily, he's throwing strikes is the biggest thing," Roenicke said. "Today's probably the best I've seen his slider, as far as he could throw it for a strike when he wanted to and he could bury it in the dirt when he wanted to and get some strikeouts."
Peralta is a big piece in Milwaukee's future rotation plans, and Roenicke has liked the path his 24-year-old right-hander has taken the last month.
"The stuff we knew was there; the movement is huge," Roenicke said. "But what it comes down to, when his slider is good and he's throwing his changeup, now he's going to become a real pitcher instead of just a thrower. Once he gets to that level, I think he'll be calling his own game."
The Brewers' offense could not get Peralta the win, but Gindl's walk-off homer saved a lineup that started the game without Ryan Braun, Carlos Gomez, Aramis Ramirez and Jonathan Lucroy and was stifled by Miami starter Henderson Alvarez and the Miami bullpen all day.
Alvarez was equally as baffling as Peralta for the Marlins, handcuffing the Brewers for seven innings. The righty allowed just five hits while walking one and striking out one before getting pinch-hit for in the eighth.
Gindl's first career home run was a high opposite-field drive down the left-field line off reliever Ryan Webb. Gindl said he took a two-seam fastball over the fence in left, but he hardly expected to be the one to end the game.
"Not at all," Gindl said. "Not a chance. I thought Braun or Rickie [Weeks] or somebody like that, but not me. Me and Jerry [Narron, the Brewers' bench coach] actually just talked about it, and he said, 'Don't try to hit a homer. Hit a double.' That was my approach. When I hit it, I thought it had a chance but I thought it was going to go foul, actually. It snuck in there for me."
Webb was equally as surprised Gindl's fly ball drifted over the fence.
"It looked like a popup, and it went over the fence," Webb said, adding "I thought it was a popup foul. Then I thought it was a popup fair. Then I thought it was an out, and then it was over the fence, 10 feet fair. It's not short over there. But it didn't look like it off the bat, but it kept going."
Francisco Rodriguez, Michael Gonzalez, Jim Henderson and Axford combined for five scoreless innings in relief for the Brewers, holding the Marlins down and setting up Gindl's heroics.
"The relievers, if we get a lead or if we're tied going into the late innings, I feel really good we're going to win the ballgame," Roenicke said.
Kevin Massoth is an associate reporter for MLB.com. This story was not subject to the approval of Major League Baseball or its clubs.