A's cruise behind Colon's four-hit shutout
A's cruise behind Colon's four-hit shutout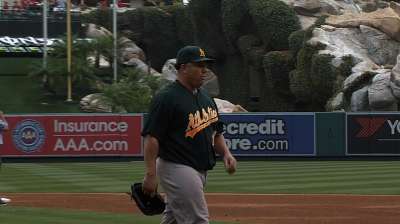 ANAHEIM -- The first-place A's finally ended their offensive drought, breaking out for six runs in Sunday's victory over the Angels. The way Bartolo Colon was pitching, one would have been enough.
The veteran right-hander, who has been flat-out dominant in his last 13 starts, spun a four-hitter, while battling a stomach bug. The A's 6-0 victory over his former club marked his 12th career shutout and 35th complete game.
Colon has now lasted six or more innings, while surrendering three or fewer runs in each of those 13 starts -- one away from equaling the club's all-time record for consecutive quality starts held by Dan Haren. During that time, Colon is 9-1 with a 1.62 ERA.
Oh, and he's doing it at the ripe age of 40.
"I've been trying to explain it all year, and I can't," said manager Bob Melvin. "He's a competitor. He loves playing the game. He loves pitching."
For eight innings, Angels catcher Chris Iannetta was the only batter who could solve Colon with a pair of singles. In the ninth, Colon allowed two sharp hits with one out, but convinced Melvin to give him a chance to finish.
Melvin said Colon had never before asked to remain in a game, so he gave his ace the benefit of the doubt and was promptly rewarded for his faith. Colon froze Albert Pujols with a mean two-seam fastball that tailed over the outside corner, then induced a lazy flyout from Josh Hamilton to seal the win.
So what exactly did Colon say to his skipper that was so convincing?
"I just said, 'Give me one more at-bat because I think I have a chance to get the guys out,'" Colon said through a translator.
He got some run support Sunday, too, a luxury A's starters haven't been afforded recently. In avoiding the sweep, the A's scored more than three runs for the first time in two weeks. And while it wasn't always a thing of beauty, the Oakland offense was as opportunistic as possible, taking advantage of three Angels errors and capitalizing with some timely hits.
The A's bats awoke in the bottom of the third inning, when Chris Young led off with a double. That brought up an unlikely catalyst in Eric Sogard, who smashed a two-run homer into the third row in the right-field seats.
"Man on second with no outs, I was just trying to get him over," Sogard said. "I get a fastball inside, and I was able to get the barrel on it."
Sogard's second homer of the year doubled the A's offensive output from the one run they had scored in the first 20 innings out of the All-Star break. They had plated just 13 runs in their last eight games, none of which came in the first three innings of a contest until the Sogard blast.
Two innings later, Sogard led off the fifth with a single up the middle, and Coco Crisp followed by laying down a perfect bunt. Angels third baseman Alberto Callaspo threw wildly to first, allowing Sogard to score. Crisp went to third, scoring later in the frame on a two-out single by Brandon Moss, who finished the game with three hits -- all opposite-field singles.
Moss was convinced after the game that his three hits to left were a career first. The first baseman has struggled a bit recently and had a frustrating session in the batting cage before the game. Afterward, he said he jokingly told a teammate, "I'm just going to go up there and try to take pretty swings. ... If I'm going to hit .230, I at least want to look good doing it."
Evidently, it worked.
"I just tried to take good, fluid, pretty swings, and I stayed through a few balls," Moss said.
The A's put the game on ice in the sixth, scoring a pair of runs, each aided by an Angels error.
As for Colon, he ran into a bit of trouble in the third inning, putting men on first and second with one out. But he got leadoff man J.B. Shuck to hit a sharp bouncer to short, where Jed Lowrie made a nice flip to start a 6-4-3 double play. He wouldn't allow another man to reach scoring position until the ninth.
"If you're watching from the side, you might think, 'The guy is throwing upper 80s. Why aren't these guys all over it?'" said Angels first baseman Mark Trumbo. "But when you actually get into the box and you experience it, you come away with a lot more respect for how good he is."
AJ Cassavell is a reporter for MLB.com. Follow him on Twitter @ajcassavell. This story was not subject to the approval of Major League Baseball or its clubs.