Padres ride early scoring burst to victory in St. Louis
Padres ride early scoring burst to victory in St. Louis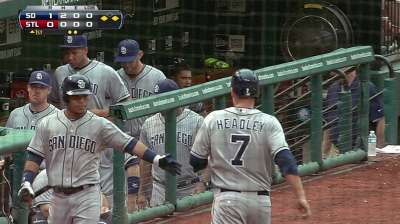 ST. LOUIS -- Edinson Volquez spoiled his perfect first three innings with an escalating pitch count and three earned runs that ended his night after the fifth. But it didn't matter because the Padres seized an early 4-0 lead and that was enough for the bullpen to fend off the Redbirds.
San Diego snapped a 10-game road losing streak with a 5-3 victory over the Cardinals on Saturday in front of a sellout crowd of 45,288 at Busch Stadium.
When asked about the importance of the quick four-run cushion, Volquez laughed and flashed a big smile.
"Big time," Volquez said. "We jumped in front, so that was great. That gave me more confidence to pitch in that situation."
Volquez exited with 107 pitches after five innings, having allowed three runs on four hits and a walk, while striking out one batter. But the Padres relievers -- Nick Vincent, Dale Thayer, Joe Thatcher and Huston Street -- combined to toss four hitless innings, holding the Cardinals at bay and preserving Volquez's seventh victory.
"His pitch count started to get up, and those are the games where we take a lot of pride in what we do," Thatcher said. "We know it's going to be a battle, especially against these guys."
The Padres got after St. Louis starter Lance Lynn early, as Jedd Gyorko drove home Chase Headley with a single for the first score of the night in the first. San Diego tacked on another in the second on Everth Cabrera's sac fly, and a pair of runs in the third when Yonder Alonso reached home on a wild pitch and Nick Hundley hit an RBI single.
Like Volquez, Lynn lasted just five innings of the three-hour, 43-minute contest, with four earned runs against him on six hits and three walks.
"He just never had a feel for his fastball," said Cardinals manager Mike Matheny. "I think the body language is something we continue to work on. It wasn't his best showing in that regard either. He's had a couple weird starts and when those start to compound, it can affect how you go about it. You have to stop and regroup. It didn't look like he was able to do that tonight."
Volquez didn't allow a baserunner until he walked leadoff hitter Matt Carpenter to open the fourth, paving the way for St. Louis to cut the Padres lead in half with a two-RBI single from Allen Craig. Craig entered the game batting a Major League-best .478 with runners in scoring position, and he came through in the clutch again to put the Cardinals on the board.
Career Minor Leaguer Brock Peterson, making his big league debut, pushed a third St. Louis runner across in the fifth when he grounded out to shortstop Cabrera on a nine-pitch at-bat, cutting even further into the Padres lead.
"It was tough," Volquez said. "They've got a pretty good lineup, a lot of foul balls too. My pitch count was a little bit high. I battled, I just stayed in there and competed."
Manager Bud Black said after the game that he was "real close" to making a pitching change earlier as Volquez labored in the fourth and fifth, but the right-hander hung in there to complete five.
"They ran a couple deep counts against him," Black said. "He got back in the strike zone when he needed to, and the first three innings were spotless."
The Cardinals threatened in the eighth when Thatcher walked Jon Jay. With two outs, Jay nearly stole second but Carlos Beltran was out on a called third strike, which the veteran switch-hitter briefly disputed.
"I didn't want to miss over the plate there, so I was trying to either come way in or way out," Thatcher said. "He's a great hitter. Obviously you can't leave the ball in the middle with him. I saw [Jay] break, I knew he had a good jump, but at that point, all my focus was on Beltran. I executed the pitch and got a call."
Carlos Quentin added an insurance run with an RBI double in the ninth, bringing home Headley, before Street came on and tossed a perfect frame to earn the save.
"Getting a save on the road, especially against the Cardinals, is a tough task," Black said. "We talked about that as a group, about adding on late, keeping the pressure on them, extending the lead."
Chad Thornburg is an associate reporter for MLB.com. This story was not subject to the approval of Major League Baseball or its clubs.